Will Microsoft buy RIM or Nokia?
17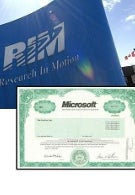 A report from Reuters says that while there is much improvement with the upcoming Windows Phone 7 OS, Microsoft might have to think about getting into the hardware end of the business to stay in the game. To that end, Toan Tran, an analyst at Morningstar, says that the guys at Redmond have talked to each other about buying BlackBerry maker RIM or even Nokia. Tran says, "To really compete in this business,Microsoft needs to get into the hardware business, where they are ableto control the entire user experience. Applehas shown that's the model that works. In a consumerdevice, people just want something that works, they don't wantsomething as complicated as a PC."
Before letting your mind wander too far, can Microsoft even afford to buy RIM or Nokia? the company has $9.4 billion in cash and equivalents and $26.7 billion in short term investments that can be quickly converted to cash. RIM has a current market value of $39 billion and Nokia has a market cap of about $51 billion. To buy either company, Microsoft would have to offer a premium to the current value of the stock of either manufacturer. But Microsoft has not been shy when an opportunity presented itself. In 2008, the company attempted to buy Yahoo for $47.5 billion. A comment from CEO Steve Ballmer to Reuters at the MWC makes it sound like a deal is far from happening. During the presentation of the new Windows Phones 7, Ballmer said, "
"The word 'ever' is a big word, but I certainlydon't feel like that's the right strategy for us today." Of course, if Ballmer was planning a takeover, he wouldn't risk raising the price of such a deal by opening his mouth prematurely.

Morgan Keegan analyst Frank McCourt thinks that Microsoft has no desire to get into hardware as that would alienate current customers of its OS.
The latest figures from Canalys show that Microsoft's marketshare in the smartphone space has dropped to 8.8% from 13.9% the year before. McCourt feels that buying a hardware firm would happen only if Windows Phone lost so much market share that upsetting its customers would not matter. He says that Microsoft is not yet in that position although it will be at least a year before the impact of Windows Phones 7 will be felt. By then, Apple, Nokia and RIM will have upgraded it's offerings putting more pressure on the company. Jack Gold, head of J. Gold Associates a research firm that concentrates on mobile, says Microsoft should concentrate on getting people to use its services and that a hardware acquisition would be a mistake. But on Wall Street, some deals are made not necessarily for need but because the M&A guys are antsy. And where there is smoke, there is fire.

source: Reuters