Microsoft patent application explains why the company wants to produce a folding phone
6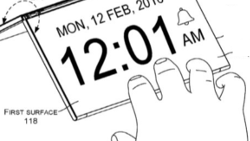 Over the last week or so, we've
passed along some of the latest information regarding a folding device
that could be released as soon as next year by Microsoft's Surface division. With telephonic capabilities, and the phone-like size that the product transforms into, there is no telling exactly what Microsoft will call it. However, we might get some sense of what the thinking is in Redmond by reading part of a recent patent application that was filed with the World Intellectual Property Organization (WIPO).
The patent application includes plenty of drawings showing a free-stop 360 degree hinge that will apparently be used on Microsoft's Andromeda device. With the patent, Microsoft explains that a folding phone is necessary in order to keep these handsets pocketable. As screen sizes rise, the screens now make up almost the entire body of a phone. In order to continue increasing the size of phone displays, the actual size of the unit itself will have to get bigger. And to keep the device pocketable, this will require the use of folding displays.
While such a device seems tailor made for business users, how will the public respond to these products? The answer to that question will depend on pricing and specifications. We've learned this year that the public will pay $1,000 or more for a smartphone if they are so inspired to. The quest for Microsoft is to get the public to feel just as inspired about its folding phone.
"Along with these enhanced capabilities has come a demand for larger displays to provide a richer user experience. Mobile phone displays have increased in size to the point where they can now consume almost the entire viewing surface of a phone. To increase the size of displays any further would require an increase in the size of the phones themselves. This is not desirable, as users want their mobile phone to fit comfortably in their hand or in a shirt or pants pocket.

As a result, dual-display devices are becoming more popular. With a dual-display device, the mobile phone or tablet can include an open, expanded position where both displays are flush so that the user feels like there is a single integrated display. In a closed, condensed position, both displays are face-to-face so as to protect the displays. In a fully-open position, the dual displays can sit back-to-back so the user needs to flip the device to view the opposing display."-Microsoft patent application"
Check out images of the 360 degree free-stop hinge that Microsoft seeks to patent, by clicking on the slideshow below.
source:
WIPO
via
WinCentral