Microsoft's rumored folding tablet shows up in renders
16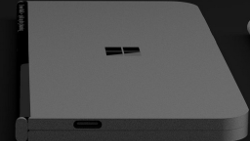 Is it possible that Microsoft is about to hit the mobile market with a hot new product? Late last week, we showed you
images from a patent application filed with the World Intellectual Property Organization (WIPO)
. The device shown in the application is a tablet that can fold in various ways such as tablet mode, tent mode, laptop mode, and folded mode. It morphs from having one large screen into a device with two smaller displays. It also is said to have telephonic features, and runs on a special version of Windows 10 codenamed Andromeda.
The tablet uses an intricate hinge with mechanical parts and magnets in order to fold open and close. Microsoft's new Windows Shell, CShell, will be able to make the proper adjustments on the fly, no matter which mode the tablet is in. The folding tablet would seem to be aimed at enterprise users and possibly even students. A dedicated app offered with the device will allow those with the tablet to fold it into two side-by-side screens and write on the displays as though they were using a regular notebook.Since the folding tablet can be manipulated into the form of a smartphone,
some believe that the device is actually the long awaited Surface Phone
.
We have no idea when, or if, this product will be mass produced.
We do expect to see Samsung's foldable Galaxy X device unveiled next year
, possibly as soon as next month at the Consumer Electronics Show in Las Vegas.
This morning, designer David Breyer tweeted a series of renders showing the device. You can check them out by clicking on the slideshow below.
source:
@D_Breyer
via
SlashGear