Microsoft has been circling Motorola too, now claims Windows Phone is the only "equal opportunity" platform
28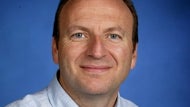 Rumor has it that Microsoft has been kicking tires to purchase Motorola as well, and Google hasn't been the only candidate lured by the relatively low price for an already-restructures company, and its valuable patent portfolio.
This might have been the reason why Google swooped in and grabbed Moto yesterday for $12.5 billion, right after CEO Sanjay Jha started commenting that
Motorola might jump on the Android patent licensing gravy train
or
welcome Windows Phone as well
last week. Google was apparently so eager for the deal to materialize, that agreed on a
$2.5 billion penalty clause
in case it didn't, which is quite a bit more than usual.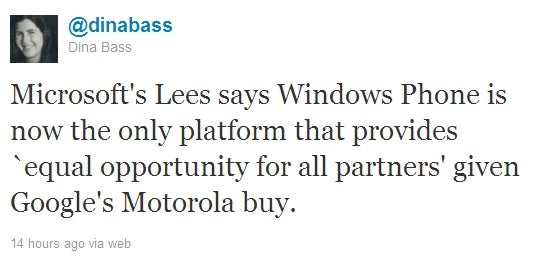 Redmond undoubtedly sees the opportunity to
lure disappointed Android manufacturers into increasing their share of Windows Phone handsets
, now that everyone is fearful Google will give Motorola preferable treatment with new editions of Android. Andy Lees, the Windows Phone Director, said in a statement that Microsoft's mobile OS is now the only platform that provides "
equal opportunity for all partners
".
Probably he should have added "if we subtract the Nokia Windows Phone preferential treatment, that is", since
the terms of Nokia's deal with Microsoft include large cash payments
, as well as exclusive access to the nuts and bolts of future Windows Phone updates.
source:
Twitter
&
GigaOm