Microsoft engineer in China says that there will be a Surface Phone before editing his comments
16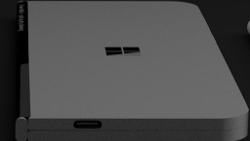 There is some hope among consumers that
the foldable device that Microsoft has been seeking patent protection for, is the long rumored Surface Phone
. Yesterday, a Microsoft engineer might have accidentally given away the news that the Surface Phone is real and is coming in the not too distant future. On a Q&A site in China called
Zhihu
, someone wrote in to complain about the poor integration of Cortana on Android.
The Microsoft engineer, writing on Microsoft Asia Research Institute's Cortana support account, blamed the lack of permissions on the operating system as the reason why Microsoft's virtual personal assistant didn't work quite as well on Android. He added that he was looking forward to seeing the perfect performance of Cortana on the Surface Phone. Later, the engineer went back to cover his tracks and said in parenthesis that he is not sure that there will be a Surface Phone.
Current speculation has the device, codenamed Andromeda, able to fold from a large tablet sized device with one screen,
into a smartphone-sized package with two displays
. It not only has telephonic capabilities, it also features a special program pre-installed that allows users to take notes across two side-by-side screens. This allows the user to take notes as though he/she was writing on a regular paper note pad.
"First of all, Siri and Bixby, two intelligent assistants installed in the smartphones, and Cortana is a third-party application, permissions support may be embarrassing. Windows Phone users may know that Cortana in Windows Phone was better than the Cortana app, Windows Phone Cortana was a lot easier to use. Microsoft Cortana (Xiao Na) is a cross-platform smart assistant, available across all devices including PCs and smartphone, trying to do more like WeChat Noda. For the smart assistant, permissions is a good thing, looking forward to the perfect performance of the Surface Phone (although Hana do not know will not be a surface phone). Of course, as a smart assistant, the pace of development is still relatively slow, but Cortana team will be working hard to make the assistant better. Last year in 3rd-anniversary celebration, Cortana saw all new features and support, three years is not a long time, but the move on this road Hana never forget, Microsoft Cortana team must live up to expectations."-Response to question about Cortana written by Microsoft Engineer
Considering that the response on the Chinese website came from a Microsoft owned account, this could be a legitimate sign that the Surface Phone does exist.
source:
Zhihu
via
WindowsLatest
,
MSPoweruser
Recommended Stories