Microsoft banks on the success of Android to help finance Windows Phone
52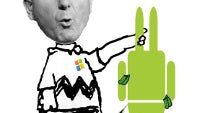 More than a couple of years ago, when Android was still adding market share in chunks and taking no prisoners, research showed that
Microsoft could make as much money off Android as Google does
by getting all patent licenses signed. Yes, we understand that technically, Google makes nothing from the sale of Android devices because of the open source nature of the software. But the Mountain View based tech giant makes money from ads and from search related functions on the platform.
As it turns out, sales of Android powered phones are actually subsidizing the cost of producing and improving Windows Phone. Nomura Securities analyst Rick Sherlund says that Microsoft currently takes in $2 billion a year in licensing fees from Android related patents. The analyst believes that 95% of that is profit, allowing the software giant to make more money from Google's open source OS than it does from Windows Phone.
According to Sherlund, Microsoft uses that tidy sum of cash to offset the red ink that flows from the Entertainment and Devices division that includes Windows Phone (and also happens to include gaming console Xbox). The analyst notes that if you take away the profits from the Android licensing fees, Entertainment and Devices would show a loss of $2.5 billion. Besides Windows Phone and Xbox, that group includes Skype. Sherlund says that Xbox is responsible for $2 billion of the red ink. He suggests that Xbox be spun out of Microsoft and that the Android patent profits are hiding the hemmoraging of red ink caused by the gaming console.
For Microsoft, the licensing fees are like an annuity that gives the company the luxury of time as it continues to fine tune Windows Phone to make it a more competitive platform. And a report earlier this year predicted that
Microsoft would earn $8.8 billion off its Android based patent licenses by 2017
. That buys plenty of R&D and marketing for Windows Phone in the near future.
source:
BusinessInsider
via
MobileBurn
Recommended Stories