Microsoft could make as much from Android as Google, if it signs licensing deals with all manufacturers
27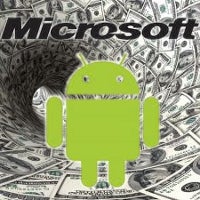 Microsoft is currently wrangling with Android cell phone makers to pay up licensing fees for publicly unknown features or components of Google's mobile OS, for which it probably has filed patents since the dawn of WinMo. Its
most popular licensee is HTC
, which coughs up $5 per device to Microsoft, and it also
signed up Velocity Micro and General Dynamics
for the noble cause of padding its bottomline.
The big win, however, will come with Samsung, which might end up paying even more, and, considering it is the world's second largest cell phone manufacturer, this should result in a good chunk of money for Microsoft. Currently
Redmond is haggling with Samsung over the terms of the licensing deal
- it wants $15 apiece, while Samsung is reportedly leaning towards $10.
Considering that Microsoft's mobile OS licenses, both for Windows Mobile and now Windows Phone 7, cost about $15, the fact that it is asking for similar amount from Android handset makers is nothing short of astonishing, but that's the patent game in the US for you. A quick napkin calculation shows that with
500 000 Android devices activated daily
, if we are to believe Google, and $5 per licence payable to Microsoft, Redmond could be raking in
over $900 million annually from Android's exploding popularity
.
It pays well to be one of the first, like with WinMo, and we are sure Microsoft won't mind carrying the label "patent troll" for that amount of cash rolling in. Coupled with the licenses from Windows Phone, which might rise parabolically next year when Nokia outs a portfolio of WP7 devices, and Microsoft could very well have a successful mobile business, not to mention the upcoming Windows 8 tablets.
Now let's move to Google. It is being cornered with patent disputes for various Android features or components. Despite being the first to bid for the bankrupt Nortel's wireless patents, which could have shielded it from Android-related lawsuits, it lost to a consortium called Rockstar Bidco. In the last minute this funny company turned out to be none other but Microsoft, plus Apple, RIM and four more wireless companies, which
jointly paid $4.5 billion for Nortel's intellectual property
. Apple and Microsoft seem to have won the lion's share of Nortel's patents, leaving Google, or, to be more precise, Android manufacturers, largely at the mercy of the courts regarding licensing deals like the one with Microsoft, or various infringements.
Google, in its turn, tries to keep Android free and open, and hopes to make money from search and advertising on the platform, which is its core business. Rumors are that it is making about $1 billion a year currently from these activities on Android, which is
roughly the same Microsoft would make
, if it strong-arms all Android manufacturers to pony up for its mobile patents, like it already did with HTC, and is on its way to do with Samsung.
Ironic? You bet. What actually concerns us with the whole litigation trend in the mobile industry, is that these costs might ultimately be passed onto us, as consumers, and Android's "free and open" concept could greatly suffer in the process. Google, however, has managed to come out dry from the many similar pressures regulators or competitors put on it, so we are hoping it will find a way to eventually subside this Android witch-hunting trend.