Microsoft Surface product announcement is auto-tuned for laughs
15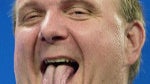 Tweet from Angel about the Auto-tuned video
Nokia employee and Windows Phone developer Justin Angel has turned the
introduction of the Microsoft Surface tablet
and Windows 8 into an
auto-tuned video
that was posted on YouTube. Angel let everyone know about his work on the video by sending out a tweet. As you surely know by now, there are two versions of the tablet. The
Microsoft Surface 8 Pro
is powered by Intel and offers the same user experience as found on your desktop PC, and is akin to a mobile version of that desktop or office tower. The
Microsoft Surface RT
offers an ARM based processor and a user experience similar to what Apple iPad and Android tablet users get.
Considering that it is late on Sunday and the weekend is just about over, we can certainly use the down time before a big week ahead that includes a pair of events on Monday, one from
Microsoft pertaining to Windows Phone 8
, and a
product introduction from T-Mobile
. So sit back in your easy chair, turn up the volume, and get ready for 59 seconds of auto-tuned Microsoft.
source:
YouTube
via
MicrosoftNews