Microsoft Surface RT teardown reveals $271 worth of components
10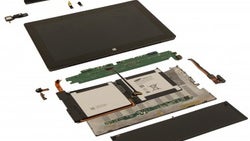 We already know what kind of hardware makes the
Windows RT Microsoft Surface
tablet tick as the device has already been
given the teardown treatment
. This time, however, we are being given an estimate as to how much are all of these components actually cost. According to IHS, the most affordable Microsoft tablet, with 32GB of storage, is made out of $271 worth of parts. Costs for R&D, marketing and shipping are not being taken into account. And that is not bad considering that the Surface RT starts at $499.
About half of that, or
$137, to be more specific, goes straight to Samsung
as it supplies quite a few of the tablet's components. The Korean company is providing the memory chips, the battery, as well as the display for the Microsoft Surface RT. The device's processor, however – a quad-core Tegra 3 chip, is made by NVIDIA.
But that is not all: the guys also took a
Microsoft Touch Cover apart only to find out that it is worth about $16
. The accessory, which acts as a protective cover and a hardware keyboard of sorts, is actually priced at $120 online, or can be had for $100 if bought together with a 32GB Surface tablet. And that quite a profit margin for something that a fair amount of consumers are likely to purchase, be it intentionally or impulsively.
The Microsoft Surface tablet with Windows RT started shipping on October 26 and we already
gave it a thorough review
. Currently, the only models available online are the 32GB with bundled Touch Cover for $599 and the 64GB one for $699, which also comes with a Touch Cover included. The base $499 model is out of stock.
source: IHS via
AllThingsD