Microsoft Surface tablet gets the teardown treatment, repairability score below average
8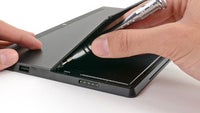 If there's one thing that can get a nerd's glasses steamy, that would be a thorough teardown of a hot gadget exposing its meticulously crafted and precisely laid out innards. And well, what do you know: the latest device to end up on the table at
iFixit
labs is the Microsoft Surface tablet, powered by Windows RT and a quad-core Tegra 3 chip by Nvidia. Care to know what the guys revealed after prying the tablet open?
Let's start with the battery: inside the
Microsoft Surface RT
resides a
31.5Wh Samsung battery
rated at 7.4 volts. In comparison, the iPad 2's cell has a capacity of only 25Wh, but the one inside the 3rd and 4th generation iPads is rated much higher at 42.5Wh. In case you are wondering, yes, the battery can be removed as it is only glued, not soldered to the device's motherboard or frame.
Few more components that Samsung provided were the 10.6-inch LCD screen and the NAND flash memory used for storage. The 2 gigabytes of DDR3 RAM, however, have been supplied by Micron. The guys also found a Wolfson DAC, a Wi-Fi MIMO chip by Marvell, and a pair of 720p cameras – one on the front and one in the back, that were nearly identical in size and shape.
After the teardown was complete,
the Microsoft Surface RT tablet was given a repairability score of 4 out of 10
– better than the iPad, yet far behind the Google Nexus 7 or the Kindle Fire HD. The device can be opened without one worrying about shattering its display, but as a whole, the procedure isn't what one'd call straightforward. For more information, check out the complete Surface tablet teardown at the link below!
source:
iFixit