Metrotube update to version 4.4 adds new features to the Windows Phone YouTube client
16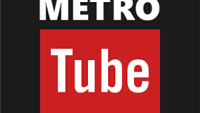 Streaming video site Metrotube, considered by many to be the top Windows Phone YouTube client, has been updated to version 4.4. The latest version of the app adds a number of new features. For example, audio mode and continuous playback now support playlists, and YouTube links will now open in Metrotube, even shortened bitly links.
After the update, long channel names no longer cover up votes, and workarounds that allowed those under 18 to view restrictive videos have been eliminated (to the chagrin of those under 18). Also fixed was an error that didn't allow preloaded videos to be deleted while offline. And now, following an update, tiles change back to previously selected styles. Of course, the usual bug fixes and enhancements are also included.
Metrotube is 99 cents, although an unrestricted and unlimited free trial is available. You can download the app from the Windows Phone Store.
source: Metrotube (
WindowsPhone
)