MediaTek powered version of the HTC One M9 launching globally in October?
23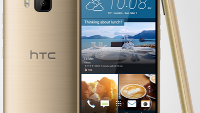 One reason for the tepid sales of the
HTC One M9
is that astute smartphone buyers realize that the powerful Snapdragon 810 chipset that powers the phone is being throttled. This has been done in order to prevent the overheating that Qualcomm's current top SoC has become notorious for. We can't argue that this is the entire reason for the poor sales, because many smartphone buyers are not knowledgeable enough to know that HTC has tempered the clock speed of the chip.
While HTC is rumored to be bringing a redesigned "Hero" phone to the market
during the fourth quarter, this device might be beaten to the market by a MediaTek powered version of the HTC One M9 expected to launch globally in October. Without having to worry about overheating, HTC might employ a deca-core SoC from the chipmaker. The exact chip being looked at by HTC has not been disclosed.
The speculation was written up by Chinese online retailer eprice. One problem, according to the online retailer, deals with pricing. With other models like the
HTC One M9+
and the
HTC One E9+
priced at the high end of the market
, a revised HTC One M9 is going to need to be priced reasonably.
We'd also suggest that you take this story with a grain or two of salt or whatever salt substitute your Doctor wants you to enjoy! You do want to stay healthy in order to see if HTC does pull this off in October, don't you?
source:
eprice
(
translated
) via
GSMDome