The iPhone 9 may come with a Super Bright LCD display technology like the G7
24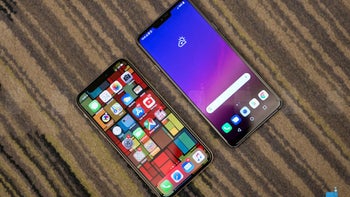 Apple is supposed to thoroughly
revamp its basic iPhone
, introducing one with 6.1" LCD display in the fall, at the $650 tag reserved for its bread-and-butter handsets that sell the most. That's quite the jump from the current 4.7"
iPhone 8
, but the new aspect ratio brought along with a TrueDepth camera notch, should keep the size nice and compact still.
How will Apple do its giant notch on an LCD screen? Well, the iPhone 9, or whatever it's called, is heavily tipped to use
JDI's Full Active display technology
. While not an OLED screen, it is flexible enough for slight bending, plus the panel bezels and connection circuitry at the bottom are reduced to a minimum, making Full Active screens one of the most compact around.
The iPhone 9 will allegedly have one more ace up its display sleeve, though, reports Korean media, and it is technology currently found on
LG's newest flagship
. Called MLCD+ on the G7, it adds an extra white pixel to the regular red, green and blue dots, so the backlight goes straight through to show white, instead of filtering three colors in an utter waste of resources. This allows MLCD+ panels to be much brighter (up to 1000 nits in the case of the G7), and also consume less energy when displaying white, compared to regular RGB matrices.
The iPhone 9 is shaping up to be a pretty interesting gear, and analysts are
expecting a windfall for Apple
from its sales this year, so we will keep our ears to the ground for any further info on its design and specs.
Recommended Stories