The 6" iPhone 9 may sport tougher LCD display with mysterious extra layer
16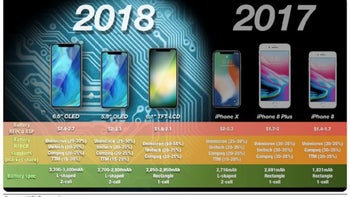 Apple may be
doing away with 3D Touch
on the rumored "affordable"
6.1" iPhone
with LCD display, in order to keep costs down. That much we've already heard, but reputed analyst Ming-Chi Kuo from KGI Securities now claims its screen will actually sport a mysterious extra thin film sensor layer that will raise the price.
What is Apple planning to do with this layer, and will it mean some sort of mock 3D Touch will stay in the LCD iPhone model, remains to be seen. The analyst says that Apple is moving to cover glass sensor (CGS) technology for
the mass 2018 iPhone
, instead of utilizing the current in-cell one that integrates the touch layer in the display. The advantages of CGS, apart from lowered production costs, are that the panel reportedly becomes lighter and more durable, albeit slightly thicker.
Adding another thin film layer to the mix has reportedly raised the panel pricing 15% to $23-$26, but Apple apparently deemed this worth it for the added functionality. Now, what would that extra feature that requires a second sensing layer bring, is anyone's guess, yet the option is apparently going to be present on all 2019 iPhones, too. Thus, the LCD iPhone is shaping up to be a pioneer for Apple in some way, we'll just have to wait and see which one.
Recommended Stories