Lumia Home Trial participants are receiving their kits
17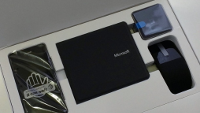 As part of a campaign to get feedback from Lumia users, Microsoft has started shipping out kits to participants of the Lumia Home Trial. Each box contains a
Microsoft Lumia 950
loaded with Windows 10 Mobile build 10586.0. To allow trial users to experience Continuum, a Display Dock is included along with a Microsoft Arc Mouse, a folding QWERTY keyboard, various cables and connectors, and one-month of service from AT&T.
The trial ends January 1st, and those who receive the kit will be asked to take part in nine challenges that will help teach them how to use certain features of the Lumia 950. Microsoft is apparently selecting participants who were involved in previous Lumia events. The software giant is not taking any requests to join the home trial.
With the Display Dock and the cables included in the kit, the Lumia 950 can be connected to a mouse, a QWERTY keyboard and a monitor in order to create a makeshift PC. Microsoft hopes to get some feedback on the Continuum feature along with other software and hardware issues, and can use these comments to build a better phone.
source:
WindowsCentral