Lower Apple iPhone sales are having a negative effect on suppliers
99+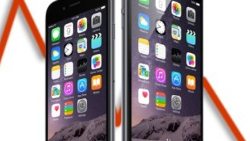 During Apple's fiscal third quarter,
the company sold 40.4 million units of the iPhone
. That was less than the 47.5 million units sold during the same quarter one year ago. For Apple, that was the second consecutive quarter that saw it report a decline in year-over-year iPhone sales. Prior to those two three-month periods, Apple had never had to report a quarterly decline in iPhone sales on an annual basis.
The iPhone sales slump is affecting other companies besides Apple. Japan Display, which gets half of its revenue from Apple, recently asked the Japanese government to help bail it out after revenues cratered from declining iPhone sales. Another company heavily tied to the fortunes of the iPhone is contract manufacturer Foxconn. One of the companies that assembles the device, Foxconn reported that Q2 profit declined to $563.7 million USD from the previous year's $818.5 million USD total. That is a decline of 31% year-over-year.
Despite all of the doom and gloom that surrounds Apple, with many analysts saying that iPhone sales have peaked, the company itself remains very optimistic.
Orders for 72 million to 78 million iPhone 7 units were placed by Apple
for the fourth quarter. Even though that period includes holiday shopping sales, and starts just a couple of weeks after the launch of the new iPhone models, Wall Street had expected the tech titan to order only 65 million units for the three month period from October through the end of December.
source:
BGR
Recommended Stories