Living with the HTC EVO 4G
47

The following article is written by one of PhoneArena's editors who has used the HTC EVO 4G as his personal phone for quite some time now. In contrast to our reviews, where we try to present a phone from the broadest range of viewpoints possible, this article solely presents the author's personal opinion, based on his needs and taste.
The Beginning: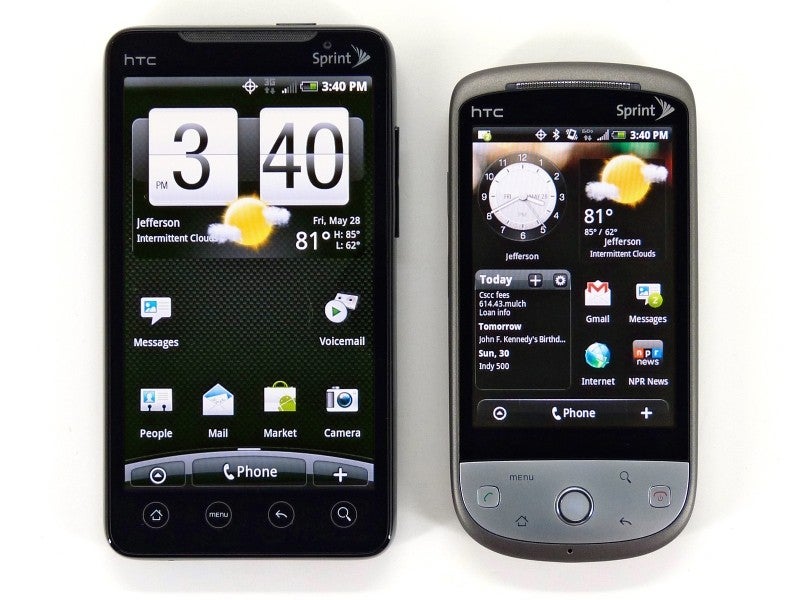 Let me start by saying this: I was happy with my
Hero
. It was rooted, I had been running Eclair for months and thanks to the many great chefs out there (special note to Damageless and Toast), I was enjoying the best that Android had to offer. The phone did everything I wanted it to do, it was the perfect size and it was arguably the best phone I had ever owned. Just like everyone else, I was excited when the Supersonic first poked its head out, but as everything was officially announced I decided to pass on it. For starters, I was not eligible for an upgrade, but what really got me was that it was the same software I had been running for months now, and 4.3" seemed ridiculous. Sure, the camera was better and it had a kickstand and other niceties, but I decided to hold out for the next great thing. Then I got my review unit of the
HTC EVO 4G
.
It was unlike anything I had used before. It was so big, so fast, so glorious. The phone slid comfortably into my pocket, eliminating one of my initial fears, and while it was wide it was far from uncomfortable to hold. And that display, my God that display. For being the same OS as my Hero, everything was so different. There was just so much more room to work with; nothing felt cramped, web pages displayed so much more info and I didn't have to squint to watch videos.
I was on my way out the door for the Indy 500 when the EVO 4G arrived and the phone got thrown to the wolves right away. I didn't bring my laptop with me on the trip, so the EVO was my sole internet source. The three hour road trip there provided me ample time to get familiar with the hardware, and everyone in the car with me wanted to get their hands on it as well. We were looking up every random fact we could think of, often using the voice search with stunningly accurate results. For the moment it was more a toy than anything, but it was at that point that I could see this device would change the way I used a phone.
It stood up to the weekend admirably, with the EVO 4G acting as my GPS on the golf course, my tablet for web browsing and my entertainment for downtime. Thankfully, the HTC Hero and EVO 4G share the same battery capacity because I definitely packed a handful, though there was never a day that two wouldn't have easily sufficed. The phone withstood everything I put it through and I knew then that I must have one.
After the Honeymoon:
Just like any good relationship things began hot and heavy with me and the HTC EVO 4G, but on Monday I was back to the real world, back to my job and by the end of the week back to my Hero. Our EVO had to go to Philly for some 4G testing and I was left with just a taste. My roommate got one on launch day so I was constantly reminded of this great new device I couldn't have. I finally couldn't take it anymore and managed to track down a phone through one of my local stores a few weeks later. The new phone smell may had worn off, but I still found myself picking up my phone for no reason, rearranging widgets and generally wasting the battery just because.
I had come from a long line of WinMo phones, had a brief layover with the Pre and then moved to the Hero. I had always hacked my phones, but for the first time I didn't feel the need to. The EVO 4G was that fast just as it was and I didn't feel the need to mess with it. Froyo was compelling, but there wasn't anything stable and it just wasn't worth the effort. Finally the tinkerer got the best of me and I used the wonderful SimpleRoot program to root my phone and flashed a custom ROM. Honestly, it wasn't anything drastic. Sure there were some nice programs I could now use that required root access, and I'm told that my FPS is better, though I can't tell any difference. The phone runs just as smooth as it did the day I unboxed it.
It's not been all rosy, I won't lie. The battery could be better, and more consistent. I don't think my usage varies much from day to day: I do maybe a hundred or so texts- a bit more on a heavy day- and periodically check some of my favorite websites. I don't talk on it much, but it does act as my music player (the Hero actually allowed me to kick my iPod Touch to the curb) and I use either the Motorola T505 to stream it through my car stereo, or my Plantronics Backbeats when I'm working out. I have gotten in the habit of turning on my Wi-Fi when at home and turning off my Bluetooth when I'm not using it. My phone is usually off the charger by 9am and sometimes I need a charge by 4pm and others I get through the day with 30% remaining. Still, this is nothing that an extra charger and a spare battery can't fix. Beyond that I've had no issues with my EVO. There is no lag, there are no force closes and I haven't had any problems otherwise.