Let's accessorize! Hands-on with official LG G5 Quick Cover and protective Lifeproof case
10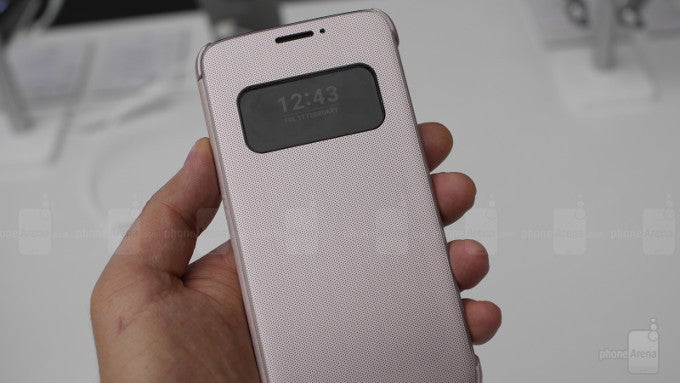 The showroom here at MWC 2016 is hot with all the new smartphones, which have been announced in the past couple of days, and accessories that offer protection or enhanced user experience. We got our hands on a couple of cases for the upcoming
LG G5
– an official flip cover case made by LG itself, and a sturdy, shockproof case made by Lifeproof.
The LG's offering is called a
Quick Cover case
. It consists of a cover, which snaps firmly to the phone's body and protects it from scratches on the back and a flap attached to it, which covers the G5's display in a flip-wallet type manner. There is a rectangular window on the front, made with a thin film of translucent plastic, which allows for a small portion of the display to be visible. This works in conjunction with LG's new always on display technology, allowing a clock and notifications to be always ready for at-a-glance checks. The case itself is has a subdued, slightly matte soft finish on the back, which imitates the look of the G5's metal body, and its front is engraved with a fine pattern. Overall, a pretty nice match to the smartphone.
The Lifeproof case follows the no-nonsense all out protection design philosophy that the company is known for. Still, we appreciate that it follows the overall shape of the G5, instead of just being a rectangular brick. None the less, the Lifeproof case puts protection first, so it adds quite a bit of bulk to the device. It is crafted out of hard plastic and rubber and its front has a built-in display protector, made out of a thin film of translucent plastic. The same goes for the camera module and fingerprint sensor on the back. The Lifeproof case offers some amount of ingress protection thanks to a flap that covers the USB Type-C connector on the bottom and a plug for the headphone jack on the top. Still, the speaker grilles on the bottom are exposed, so we would trust the protector to keep the G5 safe from accidental splashes, but wouldn't go as far as submerging it under water. Once closed, the case latches strongly and securely, and it's only possible to open it if the user inserts a coin in a special slot on the bottom and twists it.
Update:

The Lifeproof case we were handling is a pre-production unit. The team confirmed that the speaker grilles and any other remaining openings will, in fact, be sealed, making the protector water-resistant for 2-meter submersion for up to 60 minutes.
The Lifeproof case is currently up for pre-order, with a price set at $79.99 and a shipping date pinned at 18th of March. The LG Quick Cover case will probably be ready for launch together with the G5 in April. There's no word on pricing.