Leaked BlackBerry 10 screenshot shows Voice Control; RIM's shares soar 10%
13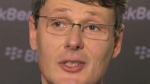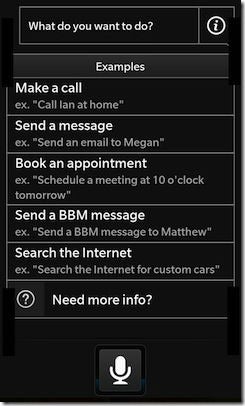 Voice Controls on BlackBerry 10
A leaked screen shot of the BlackBerry 10 OS reveals Voice Control options that RIM has put on the new OS to compete with its challengers. Based on the screenshot, BlackBerry 10 users will be able to ask the device to
make a phone call
,
send a message
,
book an appointment
,
send a BBM message
or
search the internet
. Earlier Monday,
another BlackBerry 10 screenshot revealed the Google Talk and Twitter apps on the new OS
.
Meanwhile, not all mobile related stocks have been hit by the bears on Monday. Yeah, as we explained earlier,
old news is taking shares of Apple down over 3.3%
, but the stock of Research In Motion (you know, RIM!) is
up 9.14%
or $1.24 to $14.80. Earlier in the day, the stock showed a nifty 10% gain as it took out some resistance at $15. The combination of Apple cutting orders for parts needed to build its iconic smartphone and
the upcoming January 30th introduction of BlackBerry 10
is prompting the buying of RIM's shares. As recently as September 25th, RIM's stock had traded as low as $6.75.
Back in June-July of 2008, RIM traded at $140 before the stock cratered amid the success of the Apple iPhone and then Android. Last quarter,
one million subscribers left BlackBerry
,
the first time the company reported such a decline
during a quarterly report. RIM's problems stemmed from its
two top executives who felt that the touchscreen Apple iPhone was a fad
and it wasn't until the poorly executed launch of the BlackBerry Storm 9530 that a touchscreen model was launched from RIM's camp.
source:
BerryReview
,
YahooFinance