Latest Facebook Home ad confirms your Mom's worst fears about using your phone at the dinner table
4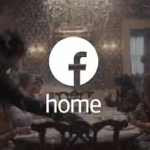 Facebook Home has just produced its third television commercial which is quick work considering that
the Android flavored launcher just hit the Google Play Store on April 12th
. That same date, the
HTC First
launched exclusively on AT&T
to become the first phone to have the launcher installed
out of the box
.
So far, the three ads include
a Facebook Home user on an airplane
with the Cover Feed screen showing the user in advance what he is going to see. The second ad shows
Facebook founder Mark Zuckerberg addressing the troops
on Facebook Home's launch day only to have one executive get caught up in what his friends are doing via
Cover Feed
. The third ad is similar to the second one except that this time, instead of an executive at a Facebook meeting, we have a family member sitting down for dinner. The point remains the same which is that Facebook Home is the best way to stay close and connected to your friends.
Perhaps after watching this ad, you'll understand why your mom hates it when you pull out your phone at the dinner table.
source:
Facebook
via
Forbes