Larry Page says Android wasn't viewed as "critical" for Google's development in 2010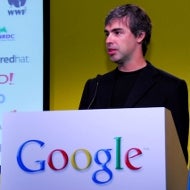 The
Google-Oracle lawsuit continues
, with Oracle trying to jack up the importance of Android in order to shave more money off El Goog for the alleged Java patent infringment, while Google trying to downplay its importance any way it can.
Yesterday Google's CEO Larry Page said that Android wasn't viewed as "critical" for the company in 2010 when the lawsuit started. The exact words were: "
I believe Android was very important for Google. I wouldn't say it was critical
".
The idea for Android at the time was to get it in as many hands as possible, so when people move over to the eventual post-PC world, Google would have a venue to offer its search, mail, docs and so on services, which would preserve its bread-and-butter ad revenue.
Now of course, with Apple being the cash monster it became, Google might have changed its views on Android a bit, strategizing how to
close the circle with Android to the extent of eventually building its own devices
, but for 2010 Larry Page is probably correct about Android not viewed as "critical" for Google's continuing success. Andy Rubin and Eric Schmidt will be on the stand next, so we expect some more Android gems from the Oracle lawsuit testimonies.