LG Lifeband Touch hands-on
6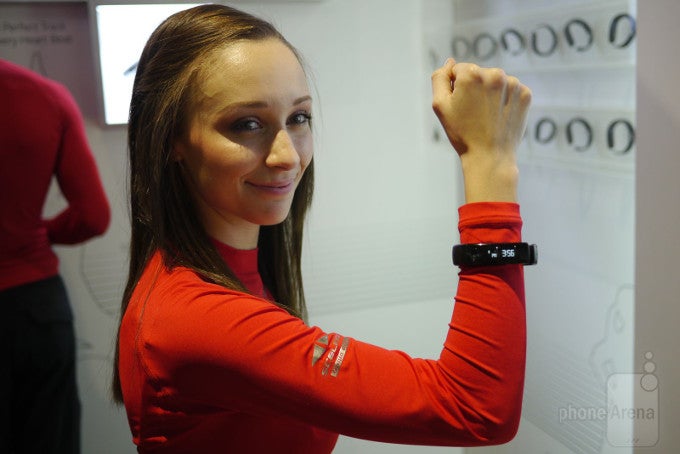 In case you somehow didn't notice, CES2014 was bombarded with new wearable tech. Wristbands, or smartbands as they're being called now, took most of the stage (and not smartwatches), and the LG Lifeband Touch is but one of many. Much alike to many other fitness bands, such as the Nike FuelBand and the FitBit Force, the Lifeband Touch specializes in tracking your overall health thanks to a whole bunch of readings being fed to a companion app. What sets LG's smart wristband apart from the competition, however, is the fact that it's also useful when you're
not
exercising or "the other 23 hours" as an LG VP calls them.
Design
A big issue many of us have had with the many encroaching werables is that they're just not stylish enough to whip out in public. Not the LG Lifeband Touch -- it sports a pretty cool, futuristic design, though you're unlikely to escape the geeky stigma it'll bestow on you either way. It features a small OLED touch display that you can work by swiping left or right. There are no clasps to speak off -- the Lifeband has a small opening that you can use to slide your wrist inside, though said hole remains open. The Lifeband comes sporting a single button that allows you to jump to different function categories and comes in three sizes that should, theoretically, fit any wrist or preference.
Functionality
On the surface of it, the LG is a water-proof fitness band with a built-in accelerometer and altimeter. It's easy to use, as you simply use taps and swipes to operate it and navigate through functions, such as the time and date, calories already burned and your progress towards your goals, and remaining battery. So far, so good, right? True, but the Lifeband is more than just yet another fitness tracker, as it can also pair up with both iOS and Android devices via Bluetooth in order to offer some extra functionality. For starters, there's a companion app that is fed all the readings from the Lifeband which are analyzed and served in a number of formats that will show how you're doing. More importantly, however, the wearable will grand you access to some essential functions of your phone, such as music controls, call silencing and call notifications. These are obviously nothing ground-breaking, yet nobody else really integrated these in a fitness wristband. As LG puts it, these extra functions add value to users beyond helping out with your fitness regime.
But the LG Lifeband Touch is not without flaws. For starters, it doesn't have a built-in heart rate monitor, which is an oozing omission, considering the main function of the wearable is still fitness. Lacking such vital information, we guess that the software comes up with some average, standardized figure for how effective your work out is, which is kind of a let down. Luckily, it's not hopeless, thanks to a pair of LG's Heart Rate Earphones. Those work exactly as advertised, in that they measure your heart beat whilst they're on. Now, this is obviously not a perfect solution as you could want to use your own pair, or none at all, though it sure beats nothing at all.
Expectations
CES2014 was a hit with wearables, as we touched on already. Whether you're a supporter of this new generation of tech or not is irrelevant, as it's obvious beyond a shadow of doubt that the era of wearables is upon us. As for the LG Lifeband Touch itself, we liked what we saw. We're especially happy to see that the South Korean company is approaching the format openly and without excluding anybody, something we can't say is true of some of its rivals. Moreover, it's good to see something as simple as call and music controls finally make it into the list of functions that smart wristbands offer, as these may just add enough reasons for early adopters to take that leap of faith.