LG tipped prepping foldable phones with flexible displays for next year, too
7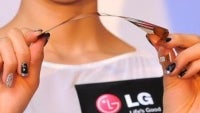 Not to be outdone by the big bro across the river, LG is on the cusp of commercializing devices with flexible displays like folding phones. It is no stranger to proof-of-concept handsets, like the G Flex line which uses plastic, instead of glass substrate for its OLED displays, so it comes slightly curved top to bottom. The company also
makes the OLED panel for the Apple Watch
with
more than $1 billion
invested in flexible display production so far, but it is apparently ready to take things to a whole new level.
It has reportedly started to equip one of its display factory facilities in Gumi with tools for producing a 6th-gen OLED flexible displays in mass quantities, and has moved the foldable phones project from the R&D to the development department in the company. Moreover, there are contracts signed with IGNIS Innovation, a Canadian company that can make flexible display circuitry.
In fact, the CEO of IGNIS has already chimed in an interview before that "
People are going to witness foldable smartphones that can become tablets when they are spread open within couple years
." An industry source has also confirmed that the LG panels with plastic substrate "
can be folded inside or outside
." LG is apparently reading to fire up on all cylinders in the first half of next year, right when Samsung is rumored to come up with its
Project Valley
foldable devices, so we can't wait to see what will MWC 2017 bring. The more competition in that realm, the better for us.
Recommended Stories