LG to make millions of flexible Plastic OLED displays for the Apple Watch
4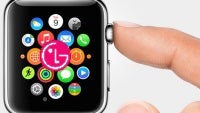 Apple and LG seem to have a trusty, healthy relationship on display. Not only has the Korean technological giant outfitted Apple's premium iPad tablets with their high-resolution displays, but the latest word on the subject is that the relationship will continue for the Apple Watch as well! JP Morgan analyst JJ Park claims that LG is the sole supplier of the wearable's flexible Plastic OLED screen.
LG has been on the forefront of this technology, going as far as to produce flexible lighting panels made entirely of plastic. So Apple's demands shouldn't be a problem for LG's display arm, although it has quite a bit of work cut out for it with Cupertino gearing up to ship 26 to 29 million watches this year, and another 61 million next. This will generate billions of dollars (and trillions of Korean wons) of revenue for LG, but other analysts think Apple will ship just 8.5 million watches, so let's not juggle the big numbers already.
LG aside, Apple's dream team of component suppliers for the iWatch includes Quanta (EMS), Samsung (application processors), ASE (system-in-package modules), Amkor and STATS ChipPAC. This thing packs in much more technology than it seemed at first glance.
The Apple Watch's release is expected in April, with two different sizes and various price tiers at bay. More news as they come!
source:
Barron's Asia
via
G For Games