LG testing Android 4.4 for both LG Optimus G and LG Optimus G Pro
25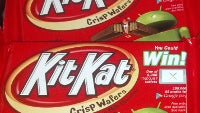 One of our connected readers took a gander at our story on the
LG Optimus G Pro
update that is rumored to be on the way,
with support for the popular KnockOn feature
. This allows the phone to be unlocked and locked with a double tap to the glass. After reading the story, this tipster let us know that LG is testing both Android 4.4 and Android 4.2.2 for the LG Optimus G Pro and the
LG Optimus G
. That's right folks, the LG Optimus G could still see some chocolatey goodness after all.
Our source also provided us with a couple of User Agent profiles. One reveals the model numbers of some LG Optimus G Pro models that are being tested with Android 4.4. The other shows model numbers and the supporting carrier for some LG Optimus G units being tested for Android 4.4.
You might recall the outpouring of emotions that took place when a poorly worded Facebook entry from LG's Estonia division made it appear as though the LG Optimus G
was receiving the Android 4.4 update there
, in advance of both the
LG G2
and the LG Optimus G Pro. As it turned out, the phone was merely getting an update
that would allow it to support 4G
. If LG thinks the testing is favorable, the handset could be loaded with Android 4.4 for real.
Thanks, Anonymous Tipster!