LG claims there has been no Nexus 4 supply issue, and denies new Nexus coming
42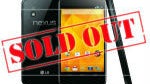 You may not believe this if you've been one of the people constantly checking the Google Play Store since November, but LG would like you to believe that there actually hasn't been any supply issue with the Nexus 4. Additionally, LG has said that the rumors about the company working on
a new Nexus device
are "unfounded".
We know that we literally just reported on the rumor of LG shifting production from the Nexus 4 to a new Nexus device, but that's the trouble with news: it just keeps happening.
The statements on both issues come from an unnamed LG official speaking to the
Chosun Ilbo
. In addition to saying that there were no problems with the Nexus 4 production, the official also said that production was going on as planned. This sets up something of a "he said/she said", because Google said that Nexus 4 supply from LG was "scarce and erratic". If we are to believe Google, then the LG official is lying. And, if we are to believe LG, then that brings up the question of whether Google's "plan" broken, because even companies that actively drive demand through low production (ie Nintendo) wouldn't have production numbers as low as the Nexus 4.
The denial of the next gen Nexus device is really just boilerplate stuff that really doesn't mean much one way or the other. Even if the rumor is true, LG won't admit to it before Google announces the device, so it's not surprising to see the official saying the rumors were "unfounded". Of course, if you're inclined to believe that there will be a new Nexus device, we would point out that there is a difference between "unfounded" and "untrue".