LG V30 vs. Samsung Galaxy Note 8: first-look ultra-widescreen phablet comparison
52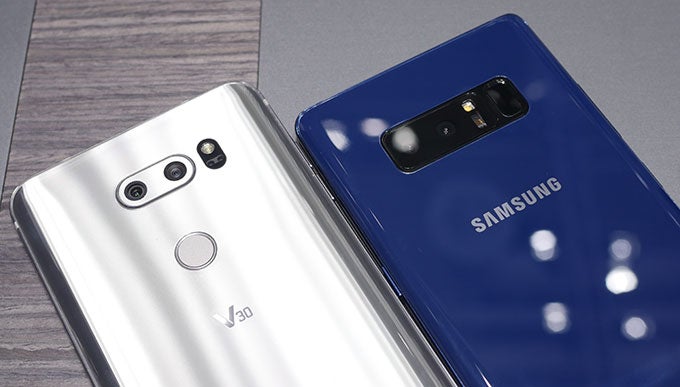 Earlier this year, Samsung and LG helped usher in a new era for smartphone design, ditching the old 16:9 widescreen displays you'd find on the vast majority of smartphones out there and bringing us flagships with some of the widest (or tallest, considering how you're most likely holding them) screens to date: the
LG G6
with its 18:9 panel, and the
Galaxy S8
(and S8+) with envelope-pushing 18.5:9 screens.
Fast-forward several months later, and both these manufacturers are pushing their super-widescreen phones to new heights, as each dials up the size for their late summer flagships. Last week,
Samsung gave us the 6.3-inch Galaxy Note 8
, and this week at IFA 2017
LG pulled the curtain back on the 6.0-inch V30
. While each of these phones has its own set of specialties, they're inevitably going to be compared against each other, and though we'll be taking a closer look at both soon, we absolutely had to take advantage of their presence here in Berlin to bring you an early first-look hands-on at what each has to offer.
Design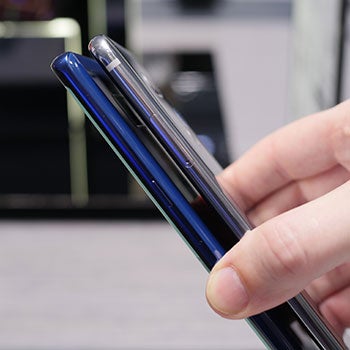 Looking at a spec run-down, these two phones sound so similar: those really wide screens we just mentioned, dual cameras on each, waterproof construction, rear fingerprint scanners … yet when all that hardware comes together, we end up with two very different-looking handsets.
While the faces of both handsets take the form of rounded-off rectangles, the Note 8 comes across as much more boxy than the V30 – and combined with its still-unusual aspect ratio, that makes it a particularly unique-looking phone.
The V30 is the shorter and wider handset, measuring 151.7 x 75.4mm to the Note 8's 162.5 x 74.8mm, and Samsung's phone also comes it a bit thicker, at 8.6mm to LG's 7.3mm. But maybe the most pronounced physical difference comes in terms of weight, with the Note 8 weighing 23 percent more than the V30.
Both phones place their fingerprint scanners around back, but the V30 seems like the more successful phone here, and its lower, centered location is just a lot easier to reach than the Note 8's living up among the phone's camera hardware. Speaking of that, while we do appreciate how LG's shrunken-down its dual-camera package, there's still a small bump there, while Samsung's is much close to flush with the Note 8's back.

Display
As we mentioned before, the shapes and sizes of these screens are slightly different, but they're still very much in the same class, and each offers a very sharp quad-HD+ resolution. They both have the same rounded corners as their smaller-screened cousins, but the Note 8 takes that curved-edge business in another dimension with its over-the-edge screen. The V30 does have curved front glass, but the screen itself terminates with a bezel before that curve begins.
With past generations of Note and V-series phones, we'd be looking at a tale of AMOLED vs. LCD, but this year LG changes up its display-hardware game and gives the V30 its own AMOLED panel, closing the gap between the two handsets. That's further helped by LG abandoning the secondary screen that had been a staple of past V-family phones.
Both screens look beautiful, and
support mobile HDR for exceptionally well-reproduced video
. We're going to have to put both models under our display calibration hardware to get the full picture on just what they're capable of, but a casual examination suggests users should be very happy with either.
Interface and Functionality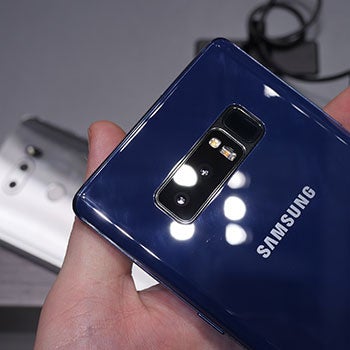 LG and Samsung both have been refining their takes on Android for years, and while the skinning these days tends to be a bit lighter than in the past and full of legitimately useful functionality, each of these phones has their own unmistakable feel to their interfaces. Across the whole system, though, it's Samsung's software that takes the bigger departure from stock, making its presence felt from app drawer to settings menu.
But the unique software on these phones goes far beyond basic Android fare, and each also adds a healthy dose of extras. On the V30, while the secondary screen isn't around this year, LG still manages to retain that same type of functionality with its Floating Bar, a little menu that can be called out from the side of the screen with a tap and that delivers that missing feature set.
The Note 8 takes that same sort of interaction and runs wild with it; not only do we get a full set of customizable Edge Panels, but there's a little Air Command bubble ready to expand and let us tap into exclusive S-Pen functionality. Obviously, that stylus itself vastly changes the way users can interact with the Note 8 in a way that the V30 can't touch.
Samsung's extras continue with its
Bixby assistant
, complete with dedicated Bixby button. And while LG sticks with the faithful Google Assistant, the V30 picks up some exclusive voice commands that can not only tap into the phone's hardware, but also control smart-home LG appliances.
Performance
With the last set of Samsung and LG flagships, the G6 was at a disadvantage, thanks to the presence of its previous-gen Snapdragon 821 chip, while the GS8 was rocking the latest 835. This time around, the two phones are much more evenly matched, and while the Note 8 will get an Exynos chip in international markets, the US Note 8 and V30 are landing with the same Snapdragon 835 processor.
They also both land with the same 64GB base storage level, but maybe just because it wouldn't be interesting enough if both these phones were just across-the-board matched in terms of silicon, for the Note 8 Samsung ups the ante on system memory, giving the phone 6GB of RAM to the V30's 4GB. Some further testing is in order to determine the full extent that extra memory has on the user experience, but from our initial observations, these two smartphones very much seem to be performing on similarly high levels.
Camera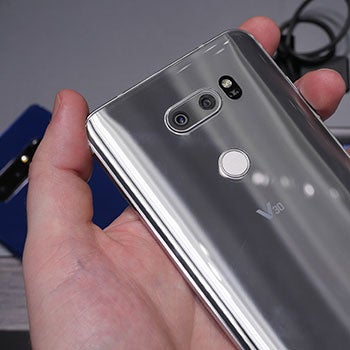 Maybe the most interesting comparison we can draw here is between camera hardware, now that the Galaxy Note 8 steps up to join the V30 (and a growing list of other popular handsets) in the dual-main-camera club. But while both phones offer users two rear cameras, one with a wide-angle lens and one with an effectively telephoto lens, the implementations couldn't be more different.
For one, the companies have very different ideas of what constitutes "wide-angle," and the lens on the V30 captures a much larger field of view than Samsung's.
As we just noted in our initial image comparison
, the FOV of the V30's "standard" lens is a much closer match to the Note 8's wide-angle camera than its zoom lens. As a result, the Note 8 lends itself more to close-ups, while the V30 is better at capturing expansive scenes.
Software also has a big impact on camera functionality, and while Samsung's software offers effortless point-and-shoot (as does LG's), the V30 seems better suited to hardcore users who are looking to get every ounce out of their phone's camera hardware by endlessly tweaking manual settings. The V30 also puts more of an emphasis on video performance, and features like Point Zoom empower owners to shoot some impressively professional-looking clips.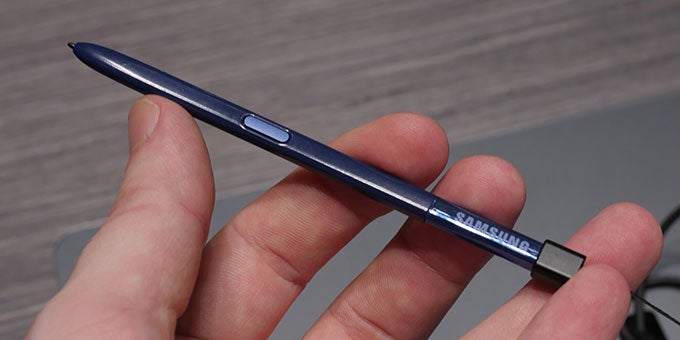 Conclusion
Both these phones feel like significant improvements over their smaller, earlier-year flagship cousins, and we've no doubt that users will get a lot of enjoyment out of either: they're powerfully fast, packed with useful functionality, and offer some stunning designs.
But all that goodness doesn't come for free, and neither one of these phablets is going to be cheap. LG hasn't yet officially confirmed V30 pricing in all markets, but
early indications point to it coming in at about 900 EUR in Europe
.
That's steep, but it's still got nothing on the Note 8, which will set you back closer to 1000 EUR, or somewhere around $950 in the US. As smartphones go, that's up in the clouds, but if Samsung really manages to convince users that the Note 8 is second-to-none, we wouldn't be surprised if shoppers come out in droves to drop nearly a grand on this handset. If the V30 feels like a better value, does that make it an easier recommendation? Stay tuned for our full reviews on both phones to get the complete picture.