Samsung Bixby hands-on: What you can do with the new GS8 virtual assistant
34
Siri, Alexa, Cortana – even the unnamed voice behind the
Google Assistant
: you can't throw a stone in smartphone-software land without hitting some kind of voice-driven virtual assistant. While some developers would look at that spread and say "enough," Samsung isn't content to let all the other big players in the mobile world have all the fun, and has put together a service of its own. With the launch of the new
Galaxy S8
and
Galaxy S8+
this week, the manufacturer introduced users to the first hardware capable of tapping into this system,
an assistant it calls Bixby
. While going hands-on with the new flagships at Samsung Unpacked, we had the opportunity to spend a little time interacting with Bixby for ourselves; let's take a look at what we saw.
What Bixby does
Like these other virtual assistants, Bixby's feature set is multi-faceted; it's not just in one place on your phone, doing one thing, in one way. So as a result, it's not surprising that parts of Bixby feel a lot like a rehash of what's offered by the likes of Google's services. That sensation's most acute when you're conducting traditional voice searches or accessing the various cards in the Bixby app.
Just like any of its competitors, Bixby can answer your questions, tapping into the vast knowledge banks of the internet to do anything from unit conversion to looking up the capital of Eritrea. And much like the way Google Now presents you information in a card format, Bixby similarly presents you with a long, scrolling list of cards containing news and current events, information saved to your personal schedule, and health data you've logged on your phone. You're free to add new cards to that list, and Bixby helps out there by recommending supported apps you might be interested in installing.
Accessing Bixby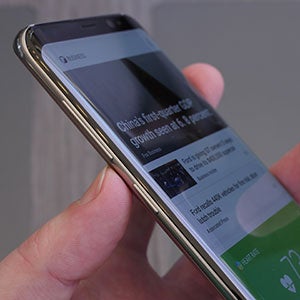 So far, this is all pretty standard, and then we come to the first thing that makes Bixby stand out: its dedicated hardware button. While the Galaxy S8 may be loosing its physical home button, it's picking up an all-new button you can use to call upon Bixby from anywhere in your phone. That makes for a bit more reliable of a voice-command trigger than listening for a hotword, as well as can save you a step or two in navigating to the Bixby card interface.
Embracing the power of voice
Answering questions with voice commands may not be particularly impressive these days, so Samsung is upping the ante with the promise of full voice control over your entire phone. This is an incredibly lofty goal, but Samsung's trying to get Bixby to a place where anything you could accomplish via touchscreen interaction, you can instead do with your voice. Or if you don't want to speak every command allowed, Bixby is designed to let you transition back and forth from spoken to touch control seamlessly.
That sounds hugely ambitious, but for the moment the actual implementation looks a little limited – and in the demos we've seen, Samsung back away from the idea of full no-touch voice control. Expect updates to make this functionality more and more fleshed-out over time, but we wouldn't necessarily bet on being able to buy a GS8 and then never touch our phone's screen again.
Bixby sees what you're doing there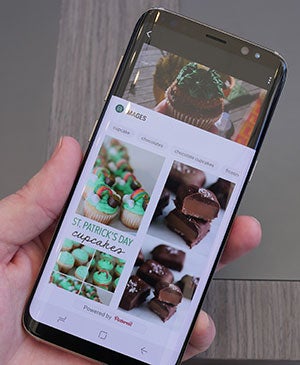 While we're still waiting to go in-depth with that voice control, one part of Bixby that was very much ready to go this week is Bixby Vision, the "augmented reality" image-processing side that taps into the camera on the Galaxy S8 (and also works with previously-taken photos).
Again, parts of this mode ring familiar, reminding us of existing services from other companies: you can point your camera at a foreign-language sign for a translation, ask it to recognize an object and look up pictures of similar things, have it analyze landmarks to work out a photo's location and offer suggestions about nearby attractions, or even identify a product and let you know how you order one of your own.
Though we've seen similar functionality through various services from Google or Amazon, bundling them all together like this really does comes across as something special, and it's also satisfying to see how well Samsung's solution works. With that image search, for example, Bixby excelled at recognizing sometimes-unusual items, and even when pictured in odd situations.
Expectations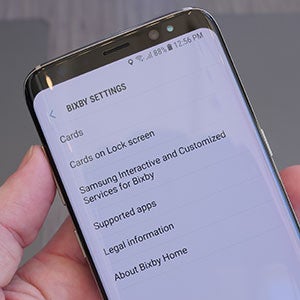 It's easy to dismiss Bixby as another me-too virtual assistant, but there really does seem to be some actual promise here, not just delivering functionality that doesn't yet exist in its competition, but tying together what you can only do now through disparate services into one, easy-to-access system.
That said, Samsung has a lot of work ahead of it in continuing to build on this solid framework, and making good on some of the bigger promises it's shared regarding voice control that extends across all corners of your Android experience.
We can't yet say if anyone will buy a Galaxy S8 just because of Bixby's presence, but we'd wager that users will respond favorably to the service, all the same.
Can't wait to take home a Galaxy S8 for yourself and give Bixby a spin? We don't blame you, but until that day gets here, you can check out our hands-on preview video and image gallery.