LG V30 goes official: stunning bezel-less design and high-end audio in one powerful package
23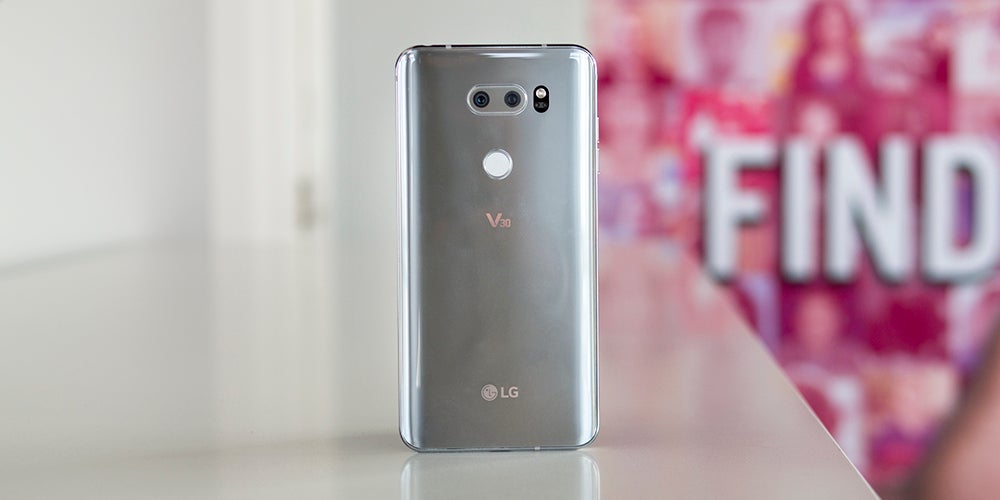 LG launched its V-series of smartphones in 2015 with the introduction of the LG V10 – a curious device stacked with unique features, some of which borderline experimental, such as a secondary display solely dedicated to displaying notifications, two front-facing cameras for super-wide-angle selfie shots, and of course, an excellent Hi-Fi DAC that has since become a staple of LG smartphones and a fan's favorite. The experimentation continued through last year with the V20, which inherited the "ticker" display from the V10, but added a second wide-angle shooter on its back and upped the audio game with its so-called Quad DAC system. But it seems that 2017 could be the end of wild experimentation for LG and the V series.
LG today made the V30 official and it is a marvel too look at and use. Sporting a trendy bezel-less design, akin to that of the LG G6, the V30 looks even sleeker, thanks to its curved glass front and back, complimented by a polished metal frame. But the V30 is more than just looks and no substance! It's stacked with the latest tech in displays, cameras, and audio, and is also blazing fast with Qualcomm's latest Snapdragon 835 CPU on board. But let's cut straight to the chase and go through all the details and sweet new features of the V30.
Gorgeous almost all-display design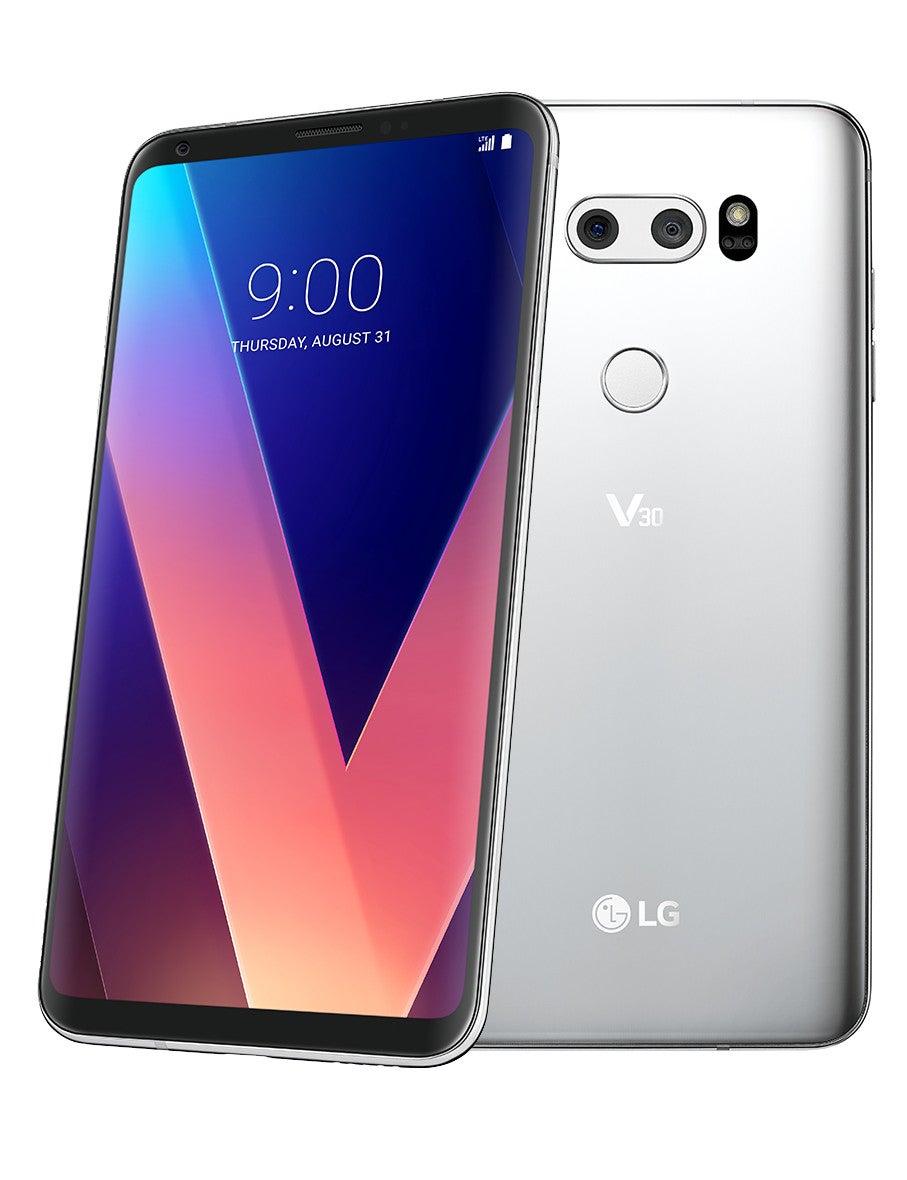 Right off the bat, the LG V30 looks striking with its 18:9, "FullVision" display, with almost nothing in the way of bezels around it. V30's display is as pixel dense as the panel that graced the LG G6 earlier this year, sporting a resolution of 1440x2880 and capable of delivering around 564ppi, but it isn't an IPS LCD this time around, it's a crisp and vibrant OLED panel instead!
Around the back, V30's dual-cam array is not completely flush with the panel like it was on the G6, but the bump is not annoying by any means. The cameras are protruding subtly from the phone's back, with the oval visor lined by a thin metal bezel and coated in Gorilla Glass 4.
The display is still not curved, as LG believes that curved screens are more prone to shattering and are tiresome to handle, but the glass covering the display has been nicely curved to the sides, creating a sleeker profile for the V30 as a whole.
The V30 looks fittingly snazzy and fragile for a high-end flagship, but you'll be pleased to hear that it can withstand a bit of a beating, since it is IP68-certified, making it water- and dust-resistant!
The ticker display is dead, long live the Floating Bar!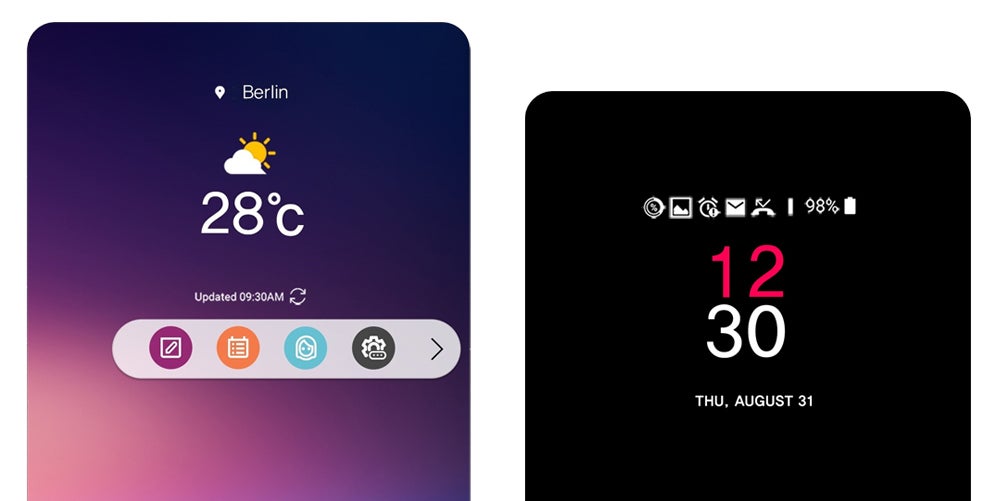 The ticker screen may be no more, but it's been superseded by two software solutions
With the V30, LG is dealing away with the dedicated ticker screen in favor of a larger main display. And good riddance, we say! Hey don't get us wrong, the ticker displays on the V10 and V20 were a fun gimmick, but why waste space when you can just emulate much of the same functionality on a single OLED display? Ah, we're sure the dedicated ticker screens have their fans and they but it is what it is – the ticker display is dead, starting with the V30.
In its place, LG has implemented an upgraded version of the G6's always-on display that not only shows the time and your latest notifications, but it can also be set to display Quick Tools, Music Player or a personal photograph to boot.
Why waste space when you can just emulate much of the same functionality on a single OLED display?
But that's not all! Alongside the revamped AOD, LG is introducing a Floating Bar that it says is the evolution of V20's ticker display, although it seems more akin to Samsung's Edge Screen, as far as functionality goes, in that it nests various useful (and presumably customizable) shortcuts, such as "Settings", "Notes", and others. The Floating Bar is accessible by swiping from the edge of the screen and is denoted by a small semicircle with an arrow when retracted.




LG V30's Floating Bar expanded (left) and retracted (right)
Professional-looking photos and videos straight out of camera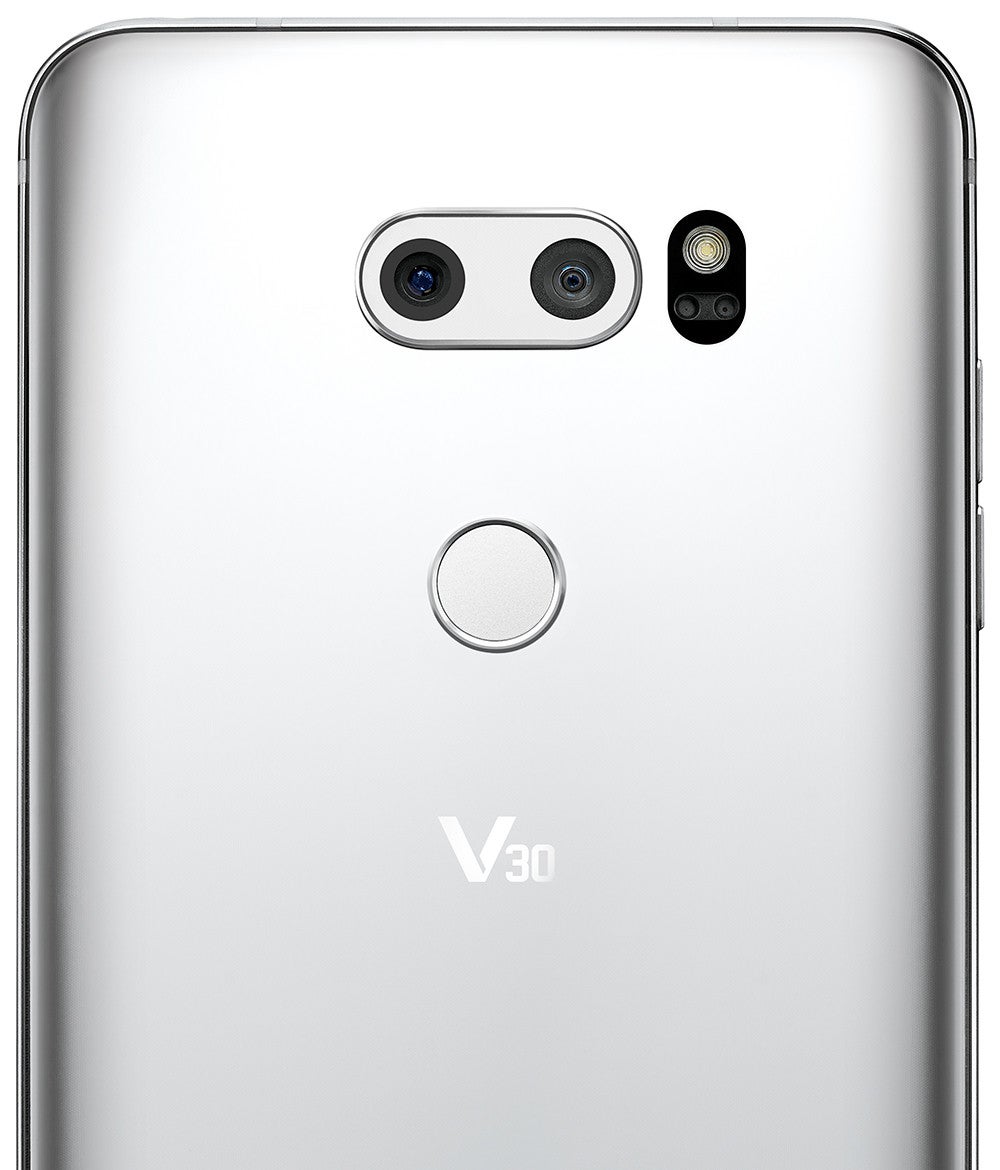 With the V30, LG continues the tradition of combining a wide-angle camera with a regular one with a narrower field of view
The camera is one of the most important features for every smartphone, and as is the trend these days, the LG V30 sports two of them – a 16MP primary camera accompanied by a 13MP wide-angle shooter. There's not a lot of new stuff on the hardware front, save for the wider f/1.6 aperture on the primary camera, but LG promises to deliver in spades on the software side of things with its new Camera app.
The new app will has a feature, called
Graphy
, that that lets you emulate the style of your favorite photographer in your shots.
Graphy
is a sort of an album of images by professional photographers from all over the world, and each one represents a different style for you to choose when taking a photo (or after the fact).
It may sound like a collection of fancy filters, which we don't mind at all as long as they are done well, but LG is planning to create an entire online database for
Graphy
styles that users will be able to download and use at their own leisure. What's even more interesting is that you can apply filters to your videos as well, but more on that in the coming days!
As is the case with cameras that we've not extensively tested for our selves, we are going to postpone any definitive judgement for until after we get into the nitty-gritty of V30's new camera and software.
High-end audio and capable hardware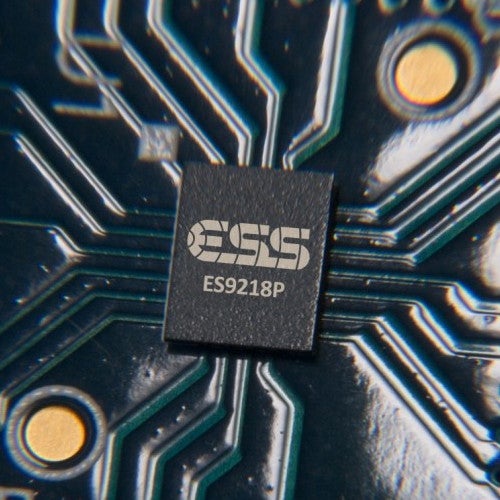 This little chip makes all the audio magic happen
Just like last year's V20 and the V10 before it, the V30 sports a Hi-Fi DAC that LG is touting as a game-changer for music-lovers. Developed in partnership with California-based ESS Technology, the Advanced Hi-Fi Quad DAC of the V30 introduces features like digital filters and sound presets, enabling a more customizable experience, and high-quality, clear sound even with "ordinary" headphones.
LG is also continuing its collaboration with B&O Play (a Bang & Olufsen company), which was tasked with fine-tuning the overall sound experience that the V30 aims to deliver. Moreover, similar to the V20, the new device will come with high quality B&O Play earphones in the box. If the V20 and V10 are anything to go by, the V30 will likely excel not only at audio playback, but recording as well, thanks to the handset's audio receiver that simultaneously doubles as a microphone.
LG isn't cutting any corners with the V30. The phone boasts a Shapdragon 835 CPU on board—Qualcomm's latest—backed by 4GB of RAM and a 3,300mAh battery. It is available in two storage options, with either 64 or 128GB of internal memory, and takes SD cards of up to 2TB in size. The V30 also supports wireless charging.