LG V10 will arrive in the United States on AT&T, T-Mobile and Verizon
13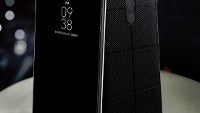 We already know when the
all-new LG V10
will be making its way to the South Korean market, and
how much it will cost
when it does so. Details on the U.S. launch have been pretty scarce thus far, but it has just been revealed which of the major carriers will be offering its latest handset from launch. Verizon -- the largest mobile network operator in the country based on subscribers -- will carry the device, which includes two displays and three cameras. Meanwhile, AT&T will also be getting on the act, along with T-Mobile.
With the Korean price point set at the equivalent of US$680, we've a ballpark idea of how much it will retail for when it does make it Stateside. Exact cost will all be revealed in good time, but with T-Mo's CEO John Legere often keen to disrupt the
'
duopoly
'
as he describes AT&T and Verizon, expect aggressive pricing and audacious strategies from T-Mobile once the V12 does begin to appear.
As a refresher, the handset is a powerful customer, including a Snapdragon 808 SoC, 4 GB of RAM and 16 GB of expandable storage. The 5.7-inch quad-HD display offers a resolution of 1440 x 2560, while a 3000 mAh battery ensures all of these features can continue ticking over. With a secondary display and two front-facing cameras, LG is proudly throwing its hat into the ring as a leader in
'
groufie
'
technology -- since that's apparently
becoming a Thing now
.
If you'd like take a closer look at the new V10, then be sure to check out
our hands-on
coverage.