The first LG V10 promo video is live. Apparently, "groufie" is a real word now
37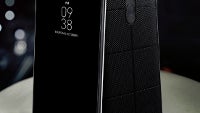 After surprisingly little rumors,
LG finally unveiled
its brand-new high-class smartphone – the V10. It's jam-packed with powerful hardware – a Snapdragon 808, 4 GB of RAM, a 1440 x 2560 resolution on a 5.7-inch display, and 64 GB of internal memory, which is expandable up to 2 TB (yes, terabytes) via microSD. The phone also has unique features, such as a secondary ticker screen for notifications and multitasking, and a dual 5 MP front-facing camera, which can take 120-degree angle selfies. Ergo – you can fit more people in a shot when taking self-portraits on that hike, birthday party, whatever else.
LG has also launched the first video ad for the phone and it spends a good two minutes in convincing us that it's a premium, even classy accessory. Also, the ad straight-up uses the word "groufie", so we assume there is no escaping from that one – expect it in the dictionaries soon.
The ad also shows other impressive features of the phone, such as the three directional microphones and an interface which can, apparently, calibrate them; high-quality 32-bit Hi-Fi digital-to-analog conversion; some sort of auto-editing for camera-shot clips; and optical image stabilization, which looks quite capable, at least in the commercial.
Check out the ad below – are you fascinated by this new LG handset, or did you catch yourself yawning a couple of times during the video?