LG V10 price and release date
13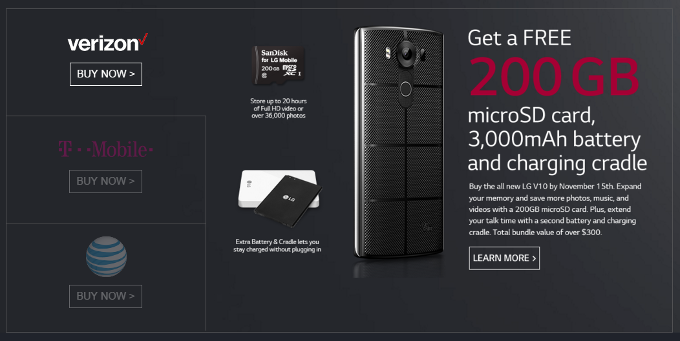 Back in July,
LG hinted at a 'super premium phone' to be delivered later in the year
, and the crazy dual-everything
V10
has every making of a beast befitting that title. To the already largish 5.7" display, it has a secondary, 2.1" screen in the front for your date/time, notifications, message preview, and icon shortcut needs to be displayed at all times.
Not only that, but it doubles down on the front-facing cameras, too, providing a 5MP Dual Lens (80 degree / 120 degree wide Angle) setup in the front, for those all-important selfies to be taken wide even without a stick. To top it all off, the phone has a Quad HD resolution for the main panel, 4 GB of RAM, and 64 GB of storage that come standard.
How much for that crazy new V10 from LG? Well, the phone will be released on October 8th in Korea, and will be gradually rolled out globally afterwards, so that it is stocked on shelves everywhere by mid-November, when the holiday shopping craze is in full swing. In the US, the LG V10 will be on AT&T, Verizon and T-Mobile, with a flagship $600+ price to match, if you don't want to get tangled with a contract.
Verizon has it for $28/month, or $672 outright, while on AT&T you can have it for $23/month, $249.99 with a two-year contract, or $699.99 without subsidies or plans. As usual, T-Mobile has it best, as the V10 costs $599.99 retail there, or $25/month on installments.