LG Optimus LTE2 to have a spiffy camera with voice photo taking, HDR photography and "Time Machine" mode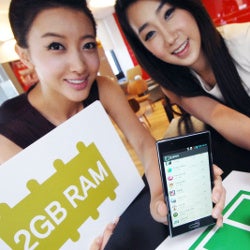 LG Optimus LTE2
that was recently announced for Korea as the first smartphone with 2GB of RAM, has some other tricks up the proverbial sleeve, besides the flagship specs like 4.5" TrueHD screen and 2150mAh battery.
Just like
HTC with the One series and their ImageChip
, and Samsung with the
Galaxy S III
, it is taking good advantage of the Ice Cream Sandwich camera API, and will undoubtedly offer things like sub-second photo capture,simultaneous pics and video taking, and Best Photo mode, which here will be called "
Time Machine
" shot, judging from some more leaked specs.
But it's not only that, it seems, for the camera department. The 8MP camera interface will offer HDR photography, examples of which you can see in the slideshow below, as well as a cool little feature like
voice photo taking
- you say "Cheese", the phone takes a picture.
We've no doubt that with these specs the phone is bound to make an appearance worldwide sooner or later, just like the first
Optimus LTE
materialized in the
LG Nitro HD
for AT&T, for example.