LG Optimus LTE2 breaks cover: the first phone with 2GB of RAM
93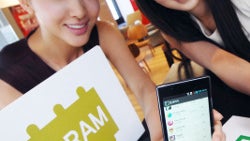 The
LG Optimus LTE2
is a monster phone, but while we all anticipated the Samsung Galaxy S III, the Optimus LTE2 came out of the blue and struck us with specifications we haven't yet seen in a phone.
Namely, a
whopping 2GB of RAM
packed inside the Optimus LTE2. Now, you can be pretty much sure you won't run out of memory, even if you're the toughest multitasker. Actually, bumping up the amount of RAM is one of the easiest ways to boost system productivity, and we applaud LG for being the first to take this step.
Now, are you excited already? Hold your horses, the handset is targetting
Korea only
in the beginning and there's no word or whether we'll see it in other markets. Still, given its technical prowess, we doubt that LG will be keeping this to its home market only for a long while.
We don't much of the details like the actual screen size yet, but we'd bet on more than 4.3 inches in diagonal. We do know however that the LG Optimus LTE2 will feature a
TrueHD IPS screen
, and the "True" part here means that you get the full RGB matrix, not a pentile screen like the one in the S III.
It can also brag with running Android 4.0 Ice Cream Sandwich out of the gate, and pack a relatively big 2,150mAh battery with the promise of a 40% battery increase compared to the original Optimus LTE. The power efficiency is said to be courtesy of a Qualcomm
Snapdragon S4
chip inside, but we're waiting for an official confirmation. Of course, as the name suggests, the handset will feature LTE connectivity.
Also, the hanset supports wireless charging via a separate dock, a neat little addiction that will help you cut cords. The design is rectangular, reminiscent of the visuals used in LG's L-series.
The rest of the details are murky, but we shouldn't have to wait long - the Optimus LTE2
release date
in Korea is mid-May.