LG Optimus 2X battles a Samsung Galaxy S again, shows off its HDMI-out prowess
1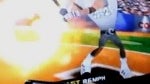 We wrote yesterday about the
Korean version of the LG Star
, revealed to be named the LG Optimus 2X - obviously LG couldn't resist bragging its dual-core nature, since it might be the first such phone to hit the markets. The LG Star, which was
also leaked on video
, will probably appear with US carriers like T-Mobile, Verizon and Sprint in Q1 of 2011 - not exactly
in time for the holidays as LG mentioned
, but close enough.
So what's world's number three cell phone manufacturer to do releasing such a dual-core monster first? You have to pit it against the current-best hardware out there, the
1GHz Hummingbird chipset
in the Samsung Galaxy S, and a few user videos have surfaced additionally to show what dual-core can do for you.
One is a demo of the HDMI-out capabilities of the LG Optimus 2X, which include hooking it up to a TV, and showing off smooth running video, which we'd assume is run in 1080p full HD mode. If that's not enough to convince you, or if videos in HD and full HD look all the same to you, the user has included a game demo, and also ran another graphics test, where the LG Optimus 2X finishes well ahead of a Samsung Galaxy S.
It's all good, and we can't wait to see how 1080p video captured with the phone will look like, and how much memory those videos will be gulping out of the built-in storage. LG promised back in September a
dual-core handset to top its Optimus line
, and the company delivered. Now the ball is in Samsung's court to outdo the fellow Koreans with its own
dual-core flagship
.
After all,
Samsung's Orion chipset
appears better than Tegra 2 on paper, especially in the graphics and
battery consumption
departments, so we'll have a fun time running all sorts of benchmarks. Now, if only there could be software to actually take full advantage of the two cores, things would add up nicely.
via
Phandroid
Recommended Stories