LG's OLED displays for the 2018 iPhones still testing, may be used for repairs only
9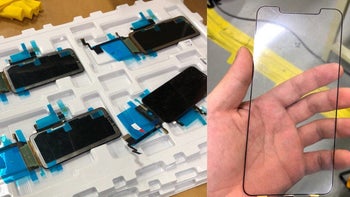 Apple is trying to diversify from overdependence on a single supplier - Samsung - for its OLED iPhones, but it may have to wait until the 2019 crop to do that if today's reports in Korean media turn out to be credible. The next company that comes to mind when we talk OLED screens - LG - is reportedly still in the mass production testing phase of the panels it is supposed to deliver for Apple, while Samsung has allegedly already started delivering its batches for the
iPhone X (2018)
back in June.
LG is heavily rumored to be the alternative screen supplier for an eventual 6.46"
iPhone X Plus
that is supposed to make a cameo this fall. One such panel even
leaked out of its Asian factories
, but apparently, these have only been proof-of-concept screens or a trial batch that aimed to show Apple it can produce the thing with the required quality, so Apple gave it a pass mark last quarter.
When it comes to quantity, though, industry sources are reporting that LG is falling a bit behind of schedule, and the mass production tests won't be happening before September when the 2018 iPhones are actually being introduced to the public. Samsung is expected to supply 75 million OLED panels to Apple for those now, while LG could be relegated to a humbler status as an OLED supplier with
2-4 million units planned
, even if it passes the mass production probes in the fall.
Should anything go wrong with these, despite the fact that LG has dedicated two production lines for Apple's needs, its OLED screens might still land in iPhones next year, but in repaired or replacement units only, tip the insiders. Apple is also in talks with other makers,
like BOE
which, however, has even less OLED-making abilities than LG to spare, so Samsung is again shaping up to be a
main supplier
of screens for the
more expensive iPhones
.