LG G5 vs Samsung Galaxy S7 vs Apple iPhone 6s: specs comparison
15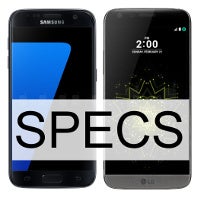 The
LG G5
is already here, and so is the
Galaxy S7
! Undoubtedly, the most curios part of the phone is its expansion slot mechanism, which enables users to insert different modules inside the device, expanding its functionalities. This is not the only highlight of the phone, though - it's a flagship on all fronts, with hardware and design to meet its top tier status.
There are two main problems before the G5, though - one of them is called the
Galaxy S7
and the other one is called the
iPhone 6s
. These two can hardly match some of G5's features, most notably the expansion Magic Slot, but this doesn't mean that LG's newest blows them out of the water.
Indeed, here's how the three stack up against one another in our improvised specs comparison. We've rounded them against each other, and it's up to decide which one is best-endowed for the task at hand.
IPS LCD
Super AMOLED
IPS LCD
500 cd/m2 (nit)
855 cd/m2 (nit)
Pressure-sensitive, Oleophobic coating, Scratch-resistant glass, Ambient light sensor, Proximity sensor
Scratch-resistant glass, Ambient light sensor, Proximity sensor
Ambient light sensor, Proximity sensor
Apple A9 APL1022
Qualcomm Snapdragon 820 MSM8996
Qualcomm Snapdragon 820 8996
Dual-core, 1840 MHz, Twister, 64-bit
Quad-core, 2200 MHz, Kryo, 64-bit, 14 nm
Quad-core, 2200 MHz, Kryo, 64-bit, 14 nm
PowerVR GT7600
Adreno 530
Adreno 530
128GB, not expandable
32GB
32GB
iOS (14.x, 13.x, 12.x, 11.x, 10.x, 9.x)
Android (8.0 Oreo, 7.0 Nougat, 6.0 Marshmallow), Samsung TouchWiz UI
Android (8.0 Oreo, 7.0 Nougat, 6.0 Marshmallow), LG UX UI
Qualcomm Quick Charge 2.0
Qualcomm Quick Charge 3.0
25.00 hours
the

average

is 17 h (996 min)
16.0 days (384 hours)
the

average

is 20 days (472 h)
24.00 hours
the

average

is 19 h (1110 min)
28.00 hours
the

average

is 19 h (1110 min)
15.0 days (360 hours)
the

average

is 0 days (0 h)
3G: 12 hours; LTE: 12 hours; Wi-Fi: 12 hours
3G: 11 hours; LTE: 13 hours; Wi-Fi: 14 hours
Single camera
Single camera
Dual camera
12 MP (Sapphire crystal lens cover, OIS, PDAF, BSI sensor)
16 MP (OIS, Laser autofocus)
Aperture size: F2.2; Focal length: 29 mm; Sensor size: 1/3"; Pixel size: 1.22 μm
Aperture size: F1.7; Focal length: 26 mm; Sensor size: 1/2.5"; Pixel size: 1.4 μm
Aperture size: F1.8; Focal length: 26 mm; Sensor size: 1/2.6"; Pixel size: 1.12 μm
8 MP
Aperture size: F2.4; Focal Length: 9 mm
3840x2160 (4K UHD) (30 fps), 1920x1080 (Full HD) (120 fps), 1280x720 (HD) (240 fps)
3840x2160 (4K UHD) (30 fps), 1920x1080 (Full HD) (60 fps), 1280x720 (HD) (240 fps)
3840x2160 (4K UHD) (30 fps), 1920x1080 (Full HD) (60 fps), 1280x720 (HD)
OIS, Time-lapse video, Continuous autofocus, Video calling, Video sharing
HDR, Picture-taking during video recording, Video calling, Video sharing
HDR, Time-lapse video, Picture-taking during video recording, Video calling, Video sharing
6.23 x 3.07 x 0.29 inches (158.2 x 77.9 x 7.3 mm)
5.61 x 2.74 x 0.31 inches (142.4 x 69.6 x 7.9 mm)
5.88 x 2.91 x 0.29 inches (149.4 x 73.9 x 7.3 mm)
6.77 oz (192.0 g)
the

average

is 6.5 oz (184 g)
5.36 oz (152.0 g)
the

average

is 6.5 oz (184 g)
5.61 oz (159.0 g)
the

average

is 6.5 oz (184 g)
Back: Aluminum
Back: Glass (Corning Gorilla Glass 4); Frame: Aluminum
Back: Metal
Fingerprint (touch)
Fingerprint (touch)
Fingerprint (touch)
Notification light
Touch sensitive control keys