LG G3 vs Samsung Galaxy S5 vs Sony Xperia Z2 vs HTC One (M8) vs iPhone 5s vs Lumia 930: screen to size ratio comparison
58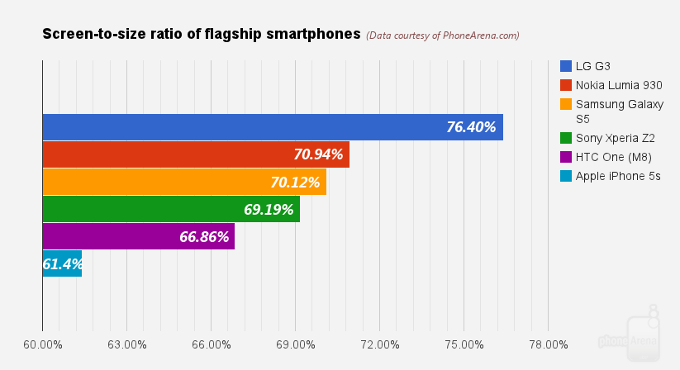 The
LG G3
has entered the smartphone arena with a splash with one landmark feature - it's the first phone from a first-tier brand to ship with a Quad HD (1440 x 2560-pixel) display. LG uses a 5.5-inch display panel in the G3, bigger than the 5.1"
Samsung Galaxy S5
, and 5-inch
HTC One (M8)
. You might think that this makes the G3 a very big phone and - while it is true that it is by no means small - LG's 2014 flagship is surprisingly compact for its size.
To understand just how compact the LG G3 is, compared to other flagships, we turn to a metric called
'screen-to-size ratio'
. How do we measure that and why do we need it? It is pretty straightforward - we take the size of the display and see what percentage does it make of the whole body of the smartphone. The higher the number the less bezel a phone has, and the less bezel there is - the more compact a device is. This way we can learn which phone has the least
'bezel clutter'
.
In this comparison, we compare the LG G3 with current-day flagships from other first-tier brands: the Galaxy S5, One (M8), Apple iPhone 5s, Sony Xperia Z2, and Nokia Lumia 930. Notice how the LG G3 leads the way with a fairly sizable advantage. Impressive, isn't it?