LG G3 vs Samsung Galaxy Note 3: first look
36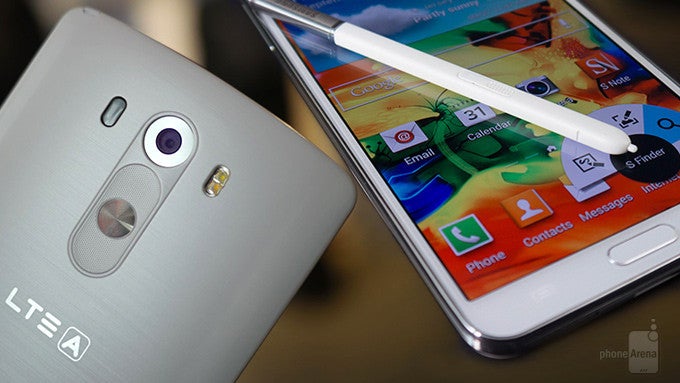 Turn up the music, pop the champagne, and let that confetti fly! The highly anticipated LG G3 smartphone is now official, and we just had the pleasure of taking it for a spin around the block. What's more, we've put together a "first look" comparison between LG's new flagship and one of the smartphones that it is going to compete against once it is released, namely the Samsung Galaxy Note 3. Read on to learn how the G3 stacks up against its rival.
Design
This time around, LG has put more effort into designing a visually appealing flagship device. Although plastic at heart, the
LG G3
sports a metallic finish applied to its surface, which contributes to a premium look. Furthermore, the matte coating makes it really hard for fingerprints to stick to the handset's back. The
Samsung Galaxy Note 3
falls into the same league of design with its plastic build, and the faux leather finish on its back has a nice, sophisticated feel to it. We have to say, though, that the LG G3 is relatively easier to handle as it is shorter and narrower. Both smartphones have been designed with removable back covers – flipping these off provides the user with access to the handsets' batteries and slots.
With the G3, LG is continuing its buttons-on-the back trend. The phone's volume and power keys are placed below the camera, right where the user's index finger is supposedly going to rest. We've said it many times that we have mixed feelings towards this solution. Some users may be okay with the unorthodox button placement, others may not like it as much, and then there will be people who won't even bother giving it a try. Samsung is playing it safe with the Galaxy Note 3. Its power key rest on the right side, where it is easy to reach, while the volume buttons are on the left side of the device. Below the display of the Note 3 reside a physical home key, together with capacitive buttons for the "Back" and "Menu" functions. The LG G3, on the other hand, relies on on-screen buttons for Android navigation.
The S Pen is one of the perks you get along with the Samsung Galaxy Note 3. In a nutshell, the accessory is an advanced, pressure-sensitive stylus used mostly for note-taking and sketching, although Samsung has come up with further uses for it. The LG G3 does not come with a stylus out of the box, but few would consider its lack a serious drawback.
Display
It is amazing when you think about it: the LG G3 boasts a 5.5-inch LCD display with a jaw-dropping resolution of 1440 by 2560 pixels. Punching these numbers into a calculator gives us a record-shattering figure of 538 pixels per inch. This explains why graphics and text look so sharp when displayed on the G3. But stacked up next to it, the Samsung Galaxy Note 3 does not lag too far behind with its 5.7-inch Super AMOLED screen. Its resolution of 1080 by 1920 pixels is sufficient for a consumer's needs with its pixel density of 386 ppi. When the two screens are placed next to each other, differences in detail reproduction are very hard to spot.
As is usually the case with Super AMOLED panels, the display on the Note 3 outputs saturated colors with a colder tone. They look impressive to the naked eye, there's no doubt about it, but their accuracy leaves some room for improvement. The best LCD panels tend to be better than their AMOLED counterparts in that respect, How well the G3 fares will become known once we get to benchmark its otherwise amazing screen, but if our eyes are to be trusted, LG's flagship is a leader in this department.
Interface
The LG G3 will be released running the latest version of Android that is available – Android 4.4.2 KitKat. The very same OS version has already started rolling out for the Note 3, which puts Samsung's phablet on par with its rival when it comes to software updates.
On the LG G3 we find a new flavor of the company's custom interface. The UI now has a flatter look, as is now the trend among smartphone interfaces. Feature-wise, LG has thrown in a smarter keyboard that is programmed to adapt to the user's typing style and habits, thus delivering a more pleasant messaging experience. We're looking forward to testing this thoroughly once we get the chance. On a related note, the keyboard on the Samsung Galaxy Note 3 comes with a single-handed mode, which condenses its keys to the side for easier reach.
Multitasking on the LG G3 has been taken to the next level with the ability to run two recent apps simultaneously. For example, you can have a YouTube video playing with your favorite notes application opened next to it. The Samsung Galaxy Note 3, however, is no less capable of a multitasker. Its Multi Window feature lets you open two compatible apps side by side for true multitasking. Additionally, Samsung's phablet supports a number of hovering apps that run in a window floating above the UI.
The so-called Smart Notice feature on the LG G3 is meant to serve as a personal assistant, providing suggestions and recommendations based on a number of factors, including the user's behavior, phone usage patterns, and current location. Yup, it reminds us of Google Now, but there are a few neat twists. For example, Smart Notice will prompt you whether you want to remove large, unused files stored on the device's memory. It will also remind you of missed calls at a later time.
One trick that the Samsung Galaxy Note 3 has up its sleeve is called My Magazine. Basically, it is a news feed powered by Flipboard, presented in a user-friendly, magazine-like layout. News and articles are always available at a swipe's distance – a swipe up from the bottom of the screen brings forth the My Magazine feature.
The LG G3's set of security features has been enhanced with the addition of Knock Code – a user-defined unlocking pattern built as an alternative to lock screen PINs and passwords. Furthermore, a feature called Content Lock limits access to specified files when the handset is connected to a computer. And last but not least, the Kill Switch option on the G3 allows content to be wiped remotely in case the device is lost or stolen.
Processor and memory
LG is not making any compromises here as the G3 packs a flagship-worthy SoC – the Qualcomm Snapdragon 801, model MSM8294-AC. This mighty piece of silicon sports a quad-core Krait 400 CPU, which can run at up to 2.5GHz, while an Adreno 330 handles graphical computations. A respectable 2GB of RAM are tucked inside for a seamless multitasking experience. The Samsung Galaxy Note 3 comes with a slightly less capable, but still pretty powerful Snapdragon 800 SoC. Its quad-core Krait 400 CPU has a slightly lower top frequency of 2.3GHz, which puts the Samsung's phablet a step behind the LG G3 when it comes to raw processing power. With a whopping 3GB of RAM, however, the Note 3 could prove the better multitasker. All in all, we're not expecting to encounter much of a performance gap between the two devices. At a glance, both are equally fast and should handle any heavy game or app you feed them.
A base LG G3 model will offer 16GB of on-board storage, which isn't much. Thankfully, the microSD card slot behind the back cover can accommodate cards of up to 128 gigs. On the Samsung Galaxy Note 3 we find 32GB of built-in storage along with a microSD card for storage augmentation.
Camera
Knowing how capable of a shooter the G2 smartphone was, our hopes for its successor are pretty high. On the back of the LG G3 we find a 13MP camera with OIS+ optical image stabilization for steady videos and blur-free images. In addition, LG has added a
laser beam
for rapid and accurate auto-focusing and a two-tone LED flash for improved color accuracy. A 13MP camera sensor graces the Note 3's back as well, but its image stabilization relies on software only, and the flash contains just a single LED. Still, the Galaxy Note 3 was among last year's top cameras, which is why it could prove capable of giving the G3 some heated competition in this category. Both smartphones offer a rich array of video recording features. The LG G3 and Galaxy Note 3 shoot 1080p videos in 30 or 60 frames per second, as well as 4K videos at 30 fps.
Expectations
We don't want to be in the shoes of someone torn between the LG G3 and the Samsung Galaxy Note 3, mostly because both are well worthy of attention with their drool-inducing hardware specs and lengthy lists of software features. Yet ultimately, LG's flagship appears to be the better-equipped smartphone overall, which is expected given the fact that it is a brand new model. It has a faster processor, a more pixel-dense screen, and an optically stabilized 13MP camera, among a long list of notable highlights. Sure, the Galaxy Note 3 still has a lot going for it even though it has been out for over 8 months, but in an all-in race against the G3, Samsung's phablet is likely to be outpaced.