LG G3 for AT&T hands-on
8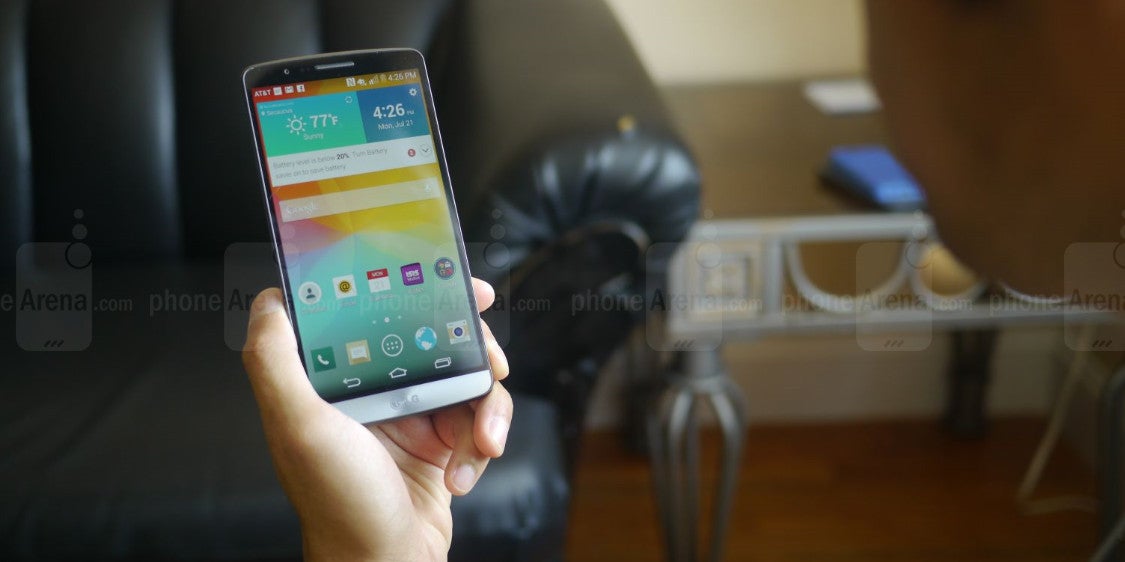 Embarking on its quest for dominance, the LG G3 is now in full swing stateside, as all four major carriers are now selling the handset. We just recently received the AT&T variant of the handset, which interestingly enough bears a few differences from the model we reviewed not too long ago. Considering we dissected the smartphone from head-to-toe in our review, we're just going to dive in and take a look at the differences with AT&T's model.
Design
Visually, the only subtle difference we can see on the outside is the distinctive AT&T logo smacked onto the back of the rear casing. Beyond that, the design is identical to the Korean version we checked out. Another thing worth mentioning, too, is that AT&T's model
supports the Power Maters Alliance standard
for wireless charging – as opposed to the more popular Qi standard. Honestly, the change might stun some folks out there, but unless that's something of importance to you, it's not much of a deal breaker.
Display
It's big. It's detailed. It's bright. In fact, it's the same incredible display we saw with the Korean model. Indeed, it's most profound for having one of the most detailed displays on a smartphone, as its 5.5-inch 1440 x 2560 (QHD) IPS LCD panel continues to mesmerize us. Although it's something many people will argue as being revolutionary, in all fairness, it's really difficult to see its superiority unless we're looking at the screen very closely – like within a few inches from our face.
Interface
Running LG's fancy, new looking customized experience on top of Android 4.4.2 KitKat, the updated look is certainly inviting in comparison to past iterations. It's just a huge leap forward for LG, just because it balances things out with its clean interface, and the meaningful set of software features that aren't too overly complicated. However, being an AT&T bound device and all, it's stuffed with the usual array of bloatware from AT&T out of the box.
Processor and Memory
Under the hood, it's stuffed with the familiar quad-core 2.5GHz Qualcomm Snapdragon 801 SoC coupled with 3GB of RAM and the Adreno 330 GPU. Not surprisingly, AT&T's model exhibits the same snappy performance that makes it a fitting choice for hardcore gamers.
Advertised as having 32GB of internal storage, that tally actually translates to 23.69GB out of the box with AT&T's version of the LG G3. Needless to say, it's more than ample for even the most demanding person, but there's also that microSD card slot behind the rear casing that can supplement things.
Camera
Shutterbugs will have a lot of fun using the LG G3's 13-megapixel auto-focus camera, which features an f2.4 aperture lens, dual-LED flash, optical image stabilization, BSI, and that fancy-schmancy laser assisted focus. If that's not enough for you, there's also up to 4K video recording and a 120 FPS capture mode for slow motion video. As we've seen already, the LG G3 has proven to have a sharp eye when it comes to capturing photos and videos.
Expectations
In general, AT&T's version of the LG G3 doesn't stray far from the Korean version we got to review. For those thinking about picking it up, you can snag it for
$200 with a 2-year contract
– or if you prefer the outright option, it'll cost you $580. Much like its main rivals, its price point is exactly where it needs to be to stay competitive. However, for those thinking about picking up AT&T's particular model, just be aware that it favors the PMA standard for wireless charging. As we've said already, it's not really a deal breaker, but for those who currently own some sort of Qi standard wireless charging pad, they might want to look elsewhere if they intend to continue using it.