LG G2 camera put to the test, OIS saves the day
34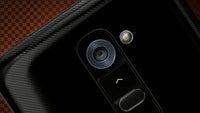 There's a lot to love about the
LG G2
. It is a fast, good-looking, feature-loaded Android smartphone with a great, high-res screen and a wonderful 13MP camera. About the latter, those of you who have already read our
camera comparison testing the LG G2 against the competition
should be already aware of its photographic abilities. For those who demand more proof, however, LG has made a couple of videos demonstrating what the G2's camera is capable of.
The first video highlights the optical image stabilization found on the smartphone's 13MP snapper. Thanks to this intelligent feature, motion blur caused by the vibration of the user's hand is reduced significantly, and the result is a clearer, sharper photo. This could be especially useful in low-light situations, when the exposure time for the shot has to be increased.
In the second video, LG demonstrates the G2's multitude of outstanding camera features in real-life conditions. Again, we see how OIS improves image quality when a video is being taken from inside a moving vehicle.The camera's ability to take Full HD video at 60 frames per second is focused on as well.
So yes, the camera on the LG G2 can take great photos and videos even under unfavorable conditions. And its 13MP camera with image stabilization is undoubtedly one of the best out there. Won't you agree? Let us know down in the comments!