LG G Watch may go on sale July 7th, will likely be free for Google I/O attendees
13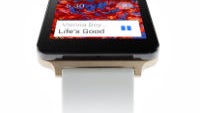 Last night, we saw some info about what
specs to expect
from the upcoming LG G Watch, and now we also have some more info on the potential release date for the device. We have long expected that the G Watch would be announced properly during Google I/O at the end of June, and that it would likely be something of a developer reference device.
Now, we're hearing some more rumors in that same vein that sound pretty reasonable. The first is that the G Watch will more than likely be part of the freebies that Google gives to I/O attendees, which makes perfect sense given that it wants to get developers interested. Also, while the G Watch will be announced during Google I/O, it now has a rumored release date of July 7th at least in the UK. As expected, the G Watch should have a lower price tag than much of the competition, and may even be priced lower than the Samsung Gear 2 Neo.
The plan appears to be that the G Watch will be announced and shown off along with the Motorola Moto 360 during I/O, and released soon after. But, the rumors are also now saying that there will be a new manufacturer showing off an Android Wear device during I/O. No one is sure yet who it will be, but early suggestions are pointing to Asus.