Korean regulator starts a Note 7 safety probe to decide on another recall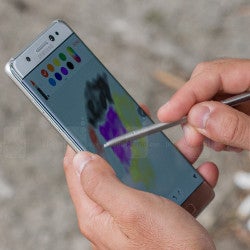 Samsung has apparently decided to do an eventual second
Note 7
recall right this time, and has first started to work with consumer protection agencies in all major markets where the phablet sells, instead of doing a quasi-recall on its own like it happened the first time. Then, the replacement units were rushed out of the gate to get into the hands of consumers mere
three weeks after
the initial spontaneous combustion reports in the US, and the rest is history.
The "investigation" statement that
Samsung put out yesterday
, comes a few days after the
first reports
about a "safe" replacement Note 7 unit catching flames, and has received one
unlikely backer
, the Consumer Product Safety Commission (CPSC). Previously, it lambasted Samsung about
not working with it
on a US-wide recall, as it is the authority in charge with those matters, so Samsung has apparently taken note.
Meanwhile, the Korea Agency for Technology and Standards (KATS), which is a government body within the Ministry of Trade, Industry and Energy there, has launched its own safety probe by the book, too, so as to determine what causes the eventual faults with the replacement Note 7 units, which are now
in the hands of 85% of Korean customers
that got the initial phablet batches, and wanted to swap for the "safe" ones.
We have currently launched an investigation into replacement Galaxy Note 7s that were exchanged from the original ones last month due to alleged battery problems. The investigation was launched after multiple reports of explosions of replacement Galaxy Note 7s at home and abroad.
The reason that KATS is launching its own safety probe is the same that the CPSC cites in the US - they want a third party body to determine, in cooperation with Samsung, the level of hazard for consumers in using the new Note 7 pieces, and decide on an eventual second recall in the respective markets.
This is the right way to go with it, not that Samsung has much other choices at that point but comply with regulations, and issue an official recall after the investigation it is launching, if the authorities deem it necessary. Third time may be the charm for those who still want a Note 7, and we should know what's happening pretty soon, as nobody has an interest in protracting this train wreck while there may still be Note 7 units with fishy battery packs out there.