July shows huge surge in the number of users of the Windows Phone 7 Facebook app
26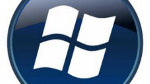 A surge in users of the Windows Phone 7 Facebook app in July could indicate that overall,
more smartphone users were turning to the platform
. Between the 9th of July and the 5th of August, users of the app increased from 2.4 million to 2.9 million users. That is a 21% increase in a short time period. The growth for the Facebook app was more than twice that for the built-in Facebook integration on the OS, which grew by just 1 million users from 2.3 million to 2.4 million between July 11th and July 26th.
A surge in users of the Windows Phone 7 Facebook app in July has many wondering what it means
There could be a rational explanation for this. Those new to Windows Phone might be more familiar with using apps than with using People Hub. Another reason could be strong Facebook growth in China where Facebook integration is not offered and the app is the best way to access the social network. Growth has started to slow in early August, so more time will be needed to see if the surge in Facebook users is a
real trend or just a fluke
. It could indicate that buyers heard more about the platform
during the Windows Phone 8 summit on June 20th
. Another theory is that price cuts on many models is driving business. For example, the flagship Windows Phone model, the Nokia Lumia 900,
recently had its price sliced in half by AT&T to $49.99
with a signed two-year pact.
Existing Windows Phone models
will not be getting updated to Windows Phone 8
which should mean plenty of cheap handsets will be available as we move toward the end of the year. By then, we should have a better idea on what the July surge in Windows Phone 7 Facebook app users really means.
source:
WMPoweruser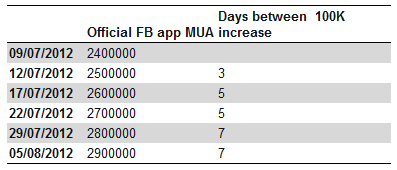 Growth in users of the Windows Phone Facebook app has slowed in August
Recommended Stories