Jon Stewart takes aim at Google Glass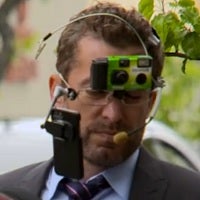 You know a product or news event has reached its zenith when
The Daily Show
decides to pick it up and toy with it in the way a cat plays with its prey before killing it. Google Glass is now at that pinnacle.
Perhaps not unsurprisingly, some segments of society, particularly
around San Francisco
, have been slow to embrace the future of technology, or at least wearable technology that rests on the face.
There have been stories of people
getting assaulted over Google Glass
, and while some might argue that it was because the "Google Glass Explorer" was being a "Glasshole," the reactions are not befitting what the technology does. Fact is, when you're out in public, there is no expectation of privacy, and while restaurants, being private establishments, have the right to ask you to take off your Glasswear, there is still no expectation of privacy, but there is an expectation of having good manners, and that is something pretty much anyone can agree with.
Enough of that seriousness though.
The Daily Show
takes the argument on basic principles, and makes a few funny points in the process. Once Glass reaches a saner price point
from its current $1,500 level
, are you thinking of picking it up?
source:
The Daily Show