San Francisco bar in a somewhat techie area of the city bans Google Glass
13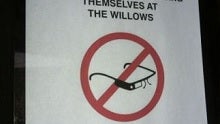 San Francisco is riding the latest wave of technological progress making it the center of a lot of really great innovation. Despite that, not every part of the city embraces the whole revolution that is underway.
Such a scenario came to light a couple weeks ago when a
woman was assaulted and robbed
in an incident that stemmed from opposition to her wearing Google Glass at a bar. That area is apparently not all that hip when it comes to tech though, so while one cannot excuse the actions taken, one might understand the sentiment.
The Willows is a bar located in an area referred to as "south of Market," or SoMa, which is close to all the goings-ons in the tech-centric area of downtown. In other words, it is not a low activity area, certainly not insulated from all the action and intrigue created by something like Glasswear.
Nonetheless, the bar has decided to ban Glass out of patron's "concern with being recorded while enjoying themselves" and has posted a sign with a picture of Google Glass with the telltale red circle with a big slash through the center. It is a private establishment and it can do what it wants.
However, we suspect that someone with a prescription set of Glass will take issue with the policy (or more likely, they will just take their business elsewhere).The Willows extended this policy to its sister establishment, Sycamore, in the Mission District.
It is a bit odd to see such a backlash against Glass and its users, being tagged as a "tech elite," in a city that purportedly leads the charge into open minded and progressive ways of doing things. Google Glass, along with most consumer level technology is a part of that progress and it is certainly the fruit of very creative minds.
Of course, it could be argued that Google brought this upon itself with such geeky looking equipment.
Perhaps a less geeky appliance is needed
.
source:
CBS