John Legere celebrates four years as T-Mobile's CEO, turning the industry inside out
26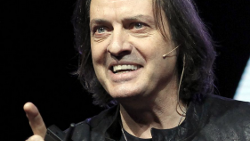 Four years ago yesterday, T-Mobile introduced its new CEO and things were never the same again in the industry. From eliminating two-year contracts, introducing Data Stash,
Music Freedom
, Binge On,
T-Mobile One
and more, John Legere has helped T-Mobile change from an also-ran into the most innovative of the four major stateside carriers.
Under Legere,
T-Mobile leapfrogged Sprint to become the nation's third largest carrier
. The number of subscribers has doubled from more than 33 million to 67 million. During that time period, T-Mobile started building out its 4G LTE signal as coverage soared from 0 to 312 million Americans. That puts it within striking distance of Verizon's 4G LTE coverage, despite Big Red's huge head start.
Under Legere's leadership, T-Mobile has become the most customer friendly of the wireless operators, and its stock price has tripled thanks to 13 consecutive quarters of positive results. Despite all that success, you still don't see the CEO's of Verizon, T-Mobile or Sprint shed their pinstriped suit for Legere's everyday attire of a t-shirt (in magenta of course) and sneakers. And not too many executives have a hair style that makes Legere look more like a rock star than the CEO of a huge corporation.
You don't have to be a T-Mobile customer to acknowledge the changes to the industry that have been engineered by Legere and crew. If you want to congratulate him for four game changing years at T-Mobile, go to @JohnLegere and use the hashtag #HeWontStop. We look forward to seeing what the next four years will bring.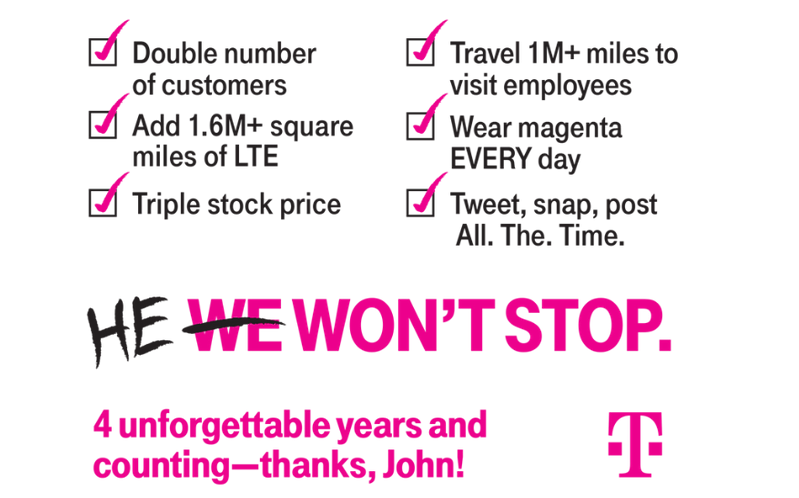 John Legere celebrates four years as the CEO of T-Mobile
source: T-Mobile