John Chen confirms BlackBerry plans for two new Android handsets
92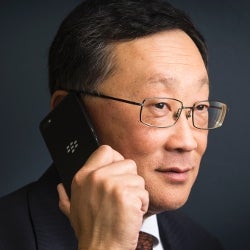 For BlackBerry's mobile hardware business,
the struggle is real
. Though the
Android-powered Priv
generated a fair amount of pre-release hype, sales have been lower than anticipated. Despite the shortcomings of the Priv -- seen by many as the Canadian company's last real hope of competing in the hardware market -- there have been hints of two new mid-rangers for release at some point this year. CEO John Chen has now confirmed that a couple of new Android devices will be forthcoming, and both will be considerably cheaper than the Priv.
Analysts have already begun to write obituaries
for BlackBerry's mobile hardware department, which is now
dragging down
the firm's conversely profitable software division. In an interview with
The National
in the UAE, Chen admits that his company may have priced itself out of contention with the Priv, and he probably has a point. Despite the anticipation for a BlackBerry running fully-fledged Android, $700 was just too much for a handset that
didn't review particularly well
. Even with
the recent $50 price cut
, there are many, many better devices out there, most of which don't cost nearly as much.
The two new devices will both run on Android; one will have a keyboard whilst the other will be a touchscreen-only effort. According to Chen, the handsets will be priced at around $300-$400.
As his company re-evaluates its strategies, it's fair to say that we may not see another smartphone from BlackBerry after these two mid-range devices have been rolled out. It's somewhat hard to believe that only a decade ago, BlackBerry handsets were as ubiquitous as iPhones are today. But the arrival of Apple's handset in 2007 -- coupled with BlackBerry's failure to adapt to the major changes within the mobile market -- have greatly contributed to its current plight.
Had a device like the Priv been available five years ago, BlackBerry may be in a more favorable position than it finds itself in. Chen said back in a November
interview with FOX Business News
that the market response to the Priv would indicate whether BlackBerry should continue making mobile hardware.
The answer appears to be a very resounding
'no'
.