BlackBerry CEO John Chen tells FOX Business News that there is life after Priv
82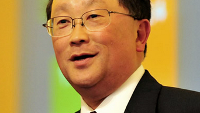 Now that the
BlackBerry Priv
has been launched, is there any thing left in the company's tank? BlackBerry CEO John Chen spoke with FOX business and he not only answered that question, he also set the record straight about those who characterized the Android slider as a "Hail Mary." The executive said that the Priv is not a Hail Mary since it was two years in the making.
What Chen said that was interesting is that the market's response to the Priv will tell him whether BlackBerry should continue in the hardware business. He said that BlackBerry has a range of products after the Priv. One might be an Android version of the
BlackBerry Passport
.
Images of such a device leaked earlier this year
, along with speculation that BlackBerry would produce such a model depending on how well the Priv sold.
Talking about how secure BlackBerry is, he responded to a question from reporter Liz Claman, asking if he could promise that a BlackBerry device would never get hacked. Chen said that it would be naive to expect a BlackBerry handset to never get hacked. But the CEO did get in a plug for his MDM, BES12. "
With the enterprise server software that manages all the devices, this phone (BlackBerry Priv) included, with this phone locked down it would be much more difficult to hack,"
Chen stated.
Chen said that he believes that the younger smartphone buyers (the hipper generation, he calls them) will be receptive to the Priv. Unfortunately, the things that John Chen is saying about appealing to the younger generation doesn't seem to match up with the rather conservative marketing that BlackBerry has used so far.
source:
FOXBusiness
via
Crackberry