Job posting points to a future Google Home smart speaker with a screen
4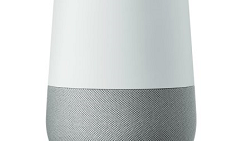 Back in October, we told you that a teardown of the latest Google app at that point (v.7.14.15)
included references to a version of the Google Home carrying a screen
. The code name of "Quartz" surfaced along with a reference to YouTube and the words browser and video. Now, a job posting on Linked In shows that Google Home is looking for a "Touch Sensor Hardware Engineer."
According to the job posting, those offered the position will "work on the next generation of Google Hardware to enable the best multi-touch user experience." And the addition of multi-touch to the Google Home certainly would indicate that a display is on the way.
Currently, the Amazon Echo Show (with a 7-inch screen) and the Amazon Echo Spot (with a round 2.5-inch display) are two smart speakers that include a screen. Google has
twice disabled the Echo Show's ability to show YouTube videos on the device
. Google reportedly told Amazon that it wasn't happy with the latter's refusal to allow its Echo Show users to enable autoplay on YouTube, or sign up to access content providers' channels.
"In this role, you'll work on the next generation of Google Hardware to enable the best mutli-touch user experience. You will lead the touch module development and integration for Google Hardware from concept to mass production. You'll work to define complete touch solutions, including selecting controllers, selecting sensor manufacturing vendors, defining sensor patterns, providing board/ITO layout constraints and requirements and overseeing physical engineering design layout."-Google job post
A Google Home smart speaker with a display will no doubt feature YouTube, Google Maps, Chrome and other Google owned apps.
source:
LinkedIn
via
Variety